Let's get cooking Cheshire East! With everything that's going on, let's not forget to keep looking after ourselves, staying healthy and keeping as active as we can! Our health team will be sharing regular healthy recipes for you to make and enjoy, all as we ask is you don't forget to share your food pics with us on social media Twitter and Instagram: @EBLeisure and Facebook: @EverybodySportRecreation.
Chilli Con Carne
An easy taste of Mexico with great flavour and spice.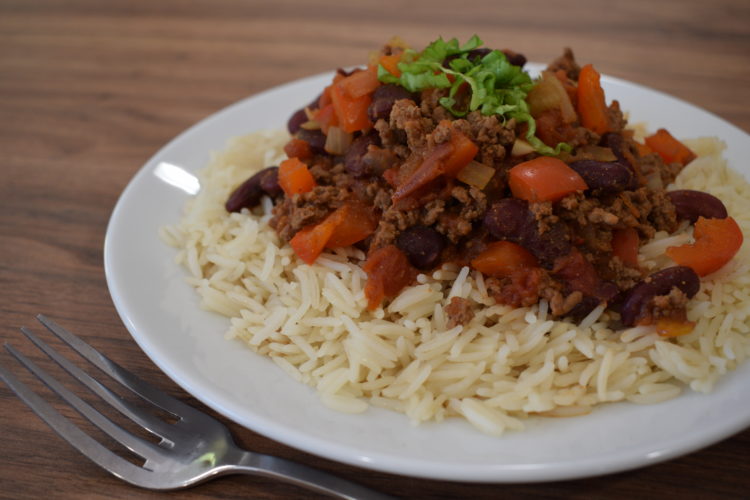 PREP TIME: 15 mins
COOKING TIME: 25 mins
SERVES: 4 portions
Ingredients
• 1 large onion, finely chopped
• 150g mushrooms, sliced
• 1 red pepper, chopped
• 2 garlic cloves, finely chopped
• 400g tinned chopped tomatoes
• 300g extra lean (5% fat) minced beef
• 410 g tinned red kidney beans in water, drained
• 150 ml reduced-salt vegetable or beef stock
• 2 tbsp tomato puree
• 1-2 tsp chilli powder
• 1⁄2 tsp ground cumin
• 300g dried basmati or long grain rice
• ground black pepper
Method
1. Add the minced beef to a large saucepan, a handful at a time, and cook it until browned. Add the onion and garlic and cook for another 2-3 minutes.
2. Add the chopped tomatoes, tomato puree, spices, red pepper, mushrooms, kidney beans and stock. Bring to the boil, then lower the heat and simmer gently for 15-20 minutes.
3. Meanwhile, cook the rice according to pack instructions. Season the chilli with pepper, and then serve the cooked, drained rice.
Tip: Turkey mince makes an excellent chilli – and it's lower in fat too. If you are a vegetarian, swap the mince for soya mince or mixed beans.
NUTRITIONAL INFORMATION PER PORTION*
*All nutritional information is approximate
| | |
| --- | --- |
| Energy | 488kcals |
| Protein | 30g |
| Fat | 5g |
| Saturates | 1.5g |
| Carbohydrates | 82g |
| Sugars | 12g |
| Dietary Fibre | 7g |
| Salt | 0.9g |