Let's get cooking Cheshire East! With everything that's going on, let's not forget to keep looking after ourselves, staying healthy and keeping as active as we can! Our health team will be sharing regular healthy recipes for you to make and enjoy, all as we ask is you don't forget to share your food pics with us on social media Twitter and Instagram: @EBLeisure and Facebook: @EverybodySportRecreation.
Spiced Fruit With Cinnamon Sticks
This is a lovely way to enjoy a fresh warm fruit salad.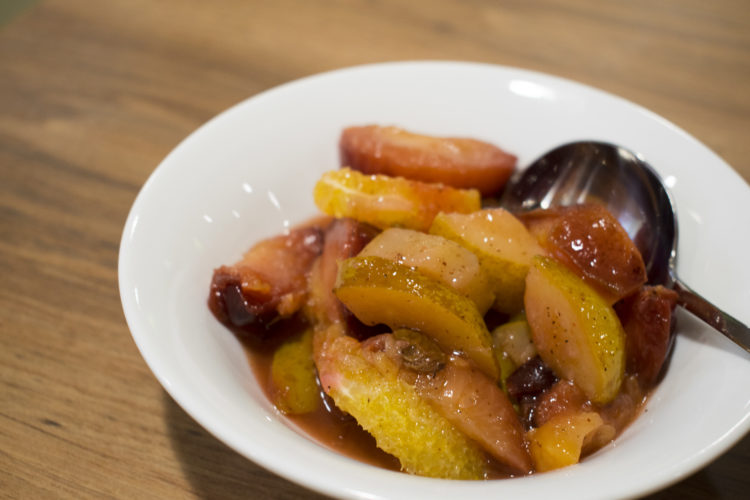 PREP TIME: 10 mins
COOKING TIME: 8 mins
SERVES: 4 portions
Ingredients
• 4 plums pitted and sliced
• 2 ripe pears cored and sliced
• 100ml unsweetened apple juice
• 25g sultanas
• 1 orange
• 4 slices wholemeal bread
• 1⁄2 tsp ground mixed spice (optional)
• 1 pinch ground cinnamon for sprinkling
• 4 tbsp low fat natural yoghurt
Method
1. Put the plums and pears into a saucepan with the apple juice and 3 tablespoons of water. Add the mixed spice (if using) and sultanas or raisins.
Cook gently for about 10 minutes, until the plums and pears are tender.
2. While they are cooking, remove all the peel and pith from the orange. Slice the flesh into segments, removing all the membrane. Add the segments to the saucepan and stir gently to mix them in, and then share the fruit between 4 serving dishes.
3. Sprinkle the slices of bread with a little ground cinnamon, and then toast them lightly. Top each fruit salad with 1 tablespoon of low fat yoghurt and serve with the cinnamon toast.
NUTRITIONAL INFORMATION PER PORTION*
*All nutritional information is approximate
Energy
191kcal
Protein
6g
Fat
1g
Saturates
0.4g
Carbohydrates
Sugars
Dietary Fibre
4g
Salt
0.5g