Let's get cooking Cheshire East! With everything that's going on, let's not forget to keep looking after ourselves, staying healthy and keeping as active as we can! Our health team will be sharing regular healthy recipes for you to make and enjoy, all as we ask is you don't forget to share your food pics with us on social media Twitter and Instagram: @EBLeisure and Facebook: @EverybodySportRecreation.
Cheats Risotto
A simple and savoury rice dish.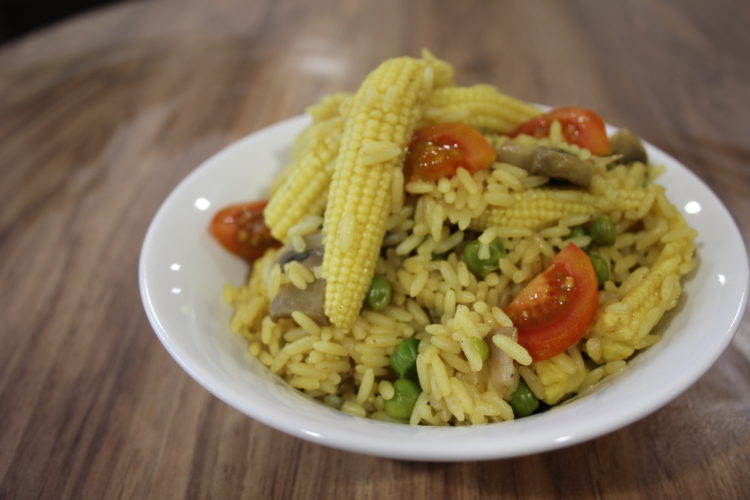 PREP TIME: 10 mins
COOKING TIME: 30 mins
SERVES: 4 portions
Ingredients
• 1 medium onion, finely chopped
• 100g closed-cup mushrooms, sliced
• 100g baby sweetcorn, sliced
• 75g frozen peas
• 1 tomato, chopped
• 150g easy-cook long grain white rice
• 300ml reduced-salt vegetable or chicken stock
• 1 tsp curry powder
• 1 tsp vegetable oil
Method
1. Heat the oil in a saucepan and fry the onion for 2-3 minutes until soft, then add the mushrooms and cook for a further 2 minutes.
2. Stir in the rice, and then add the stock, peas, baby sweetcorn and curry powder. Stir well to stop the rice from sticking to the bottom. Bring to the boil, turn down the heat and simmer for about 15-20 minutes, until the rice is tender, adding more water if necessary. Stir every now and again.
3. Serve the rice in bowls and sprinkle the tomato on top. You could add 100g of frozen mixed vegetables instead of the baby sweetcorn, or some extra chilli flakes for flavour.
NUTRITIONAL INFORMATION PER PORTION*
*All nutritional information is approximate
| | |
| --- | --- |
| Energy | 183kcal |
| Protein | 5g |
| Fat | 2g |
| Saturates | 0.3g |
| Carbohydrates | 39g |
| Sugars | 4g |
| Dietary Fibre | 3g |
| Salt | 0.05g |