Let's get cooking Cheshire East! With everything that's going on, let's not forget to keep looking after ourselves, staying healthy and keeping as active as we can! Our health team will be sharing regular healthy recipes for you to make and enjoy, all as we ask is you don't forget to share your food pics with us on social media Twitter and Instagram: @EBLeisure and Facebook: @EverybodySportRecreation.
Courgette & Tomato Frittata
Full of protein! Substitute other vegetables like mushrooms, spring onions or peppers to change up this recipe.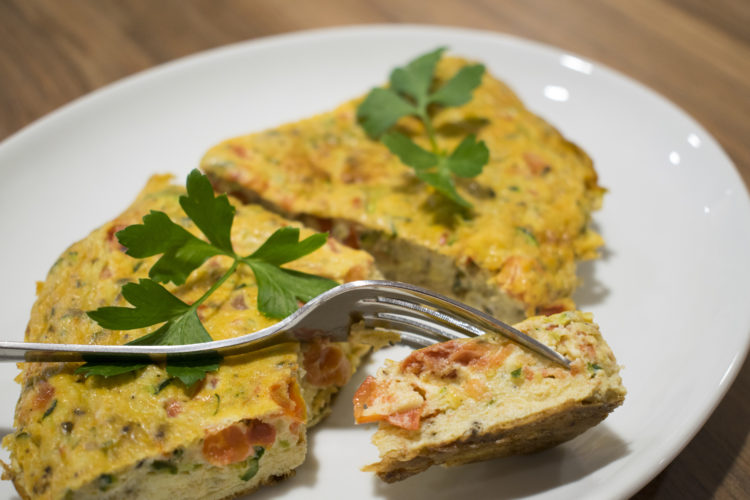 PREP TIME: 10 mins
COOKING TIME: 12 mins
SERVES: 4 portions
Ingredients
• 1 courgette grated
• 2 tomatoes, chopped
• 6 eggs
• 2 tbsp semi-skimmed milk
• 2 tsp vegetable oil
• 1 pinch ground black pepper
• 4 slices wholemeal bread (optional)
(Don't forget to wash the fresh vegetables)
Method
1. Preheat the grill.
2. Heat the vegetable oil in a non-stick frying pan. Add the courgette and tomatoes and cook on the hob for 3-4 minutes on a medium heat, stirring often, until soft. Then spread out across the base of the frying pan. Take care not to cook over a high heat, or else the base could brown too much before the middle of the frittata is cooked.
3. Beat the eggs and milk together and pour into the frying pan. Leave to cook over a medium-low heat for 4-5 minutes to set the base, and then transfer to the grill to cook the top – about 2-3 minutes. Remove from the heat and let the frittata cool for 3-4 minutes. If you use a good non-stick frying pan the frittata will be easy to remove.
4. Slice the frittata into wedges. You could serve this by toasting the wholemeal bread.
NUTRITIONAL INFORMATION PER PORTION*
*All nutritional information is approximate
| | |
| --- | --- |
|  Energy | 222kcal |
| Protein | 14g |
| Fat | 11g |
| Saturates | 3g |
| Carbohydrates | 17.5g |
| Sugars | 3g |
| Dietary Fibre | 2.5g |
| Salt | 0.7g |