Word of mouth and a Leisure Centre trial pass gets Val hooked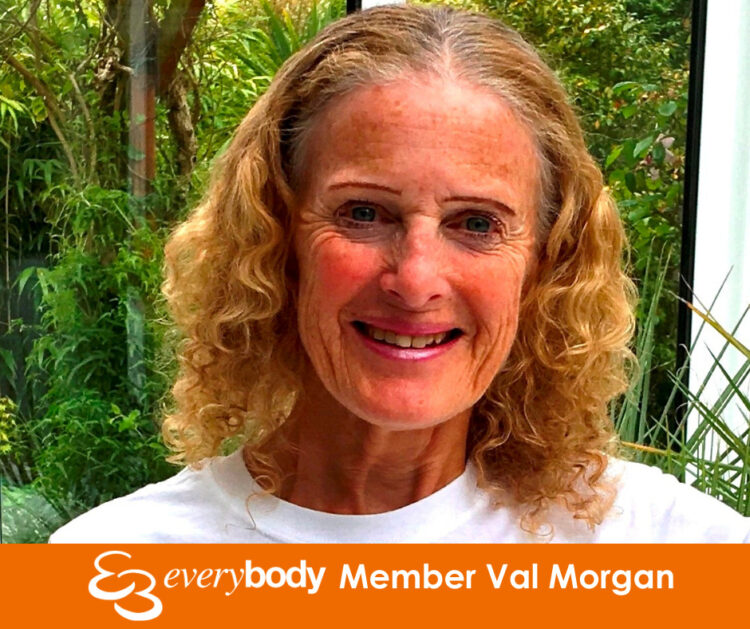 Everybody Sport and Recreation Member Val Morgan is a member at Poynton Leisure Centre and has been for nearly 3 years. After meeting a lady in a café who mentioned what a great Yoga class there was at the leisure centre, Val decided to look into this more.
She shares "I investigated the price and days and discovered you could get a great deal for over 60's like myself.  Also, the centre offered a couple of weeks free at the time to try it out so along I went and was hooked thereafter."
Every week Val has been taking part in her favourite classes Yoga and Circuits "both classes have brilliant and lovely teachers, Emma and Kim and the classes are very friendly (obviously even more friendly before Covid when we could socialise more)."
Val has noticed a big difference in her strength from the circuits, as weights was something she never used before and she quickly progressed to heavier weights from week to week. By taking part in yoga every week, it has kept her flexible and helped with relaxation.
In the past Val has used the gym and the mixed racquet sports and after the first lockdown she also took part in Swimming.  She found swimming "a very pleasant experience and usually pretty quiet" and when using the gym she shares "I could always find the equipment I needed without having to wait." 
Val shares she was not nervous to return to the leisure centre because she trusted that good safety measures would have been put into place. "It has been great to be able to return to the centre.  It feels very safe and lots of measures have been put in place regarding social distancing: entering and leaving the centre from different doors, markers on the floor to space people out in the yoga and circuits, less people in the swimming pool,  masks being compulsory when entering and leaving the classes, all equipment sanitised before and after the classes."
In the run up to Christmas, Val shares that she is a bit busy so she just takes part in the Friday yoga and circuits at the moment.  However, Val is also partaking in Everybody Sport and Recreations, Everybody @ Home, online Stretch and Tone classes "I also really love the Stretch and Tone classes from Victoria, who is also a fabulous teacher, and another lovely person."
To anyone nervous about returning to the Leisure Centre, Val would like to share the above safety measures that have been put in at the site and that "there is nothing to worry about."
If you would like to find out more, please visit www.everybody.org.uk