Balance and Mobility Classes coming to Madeley.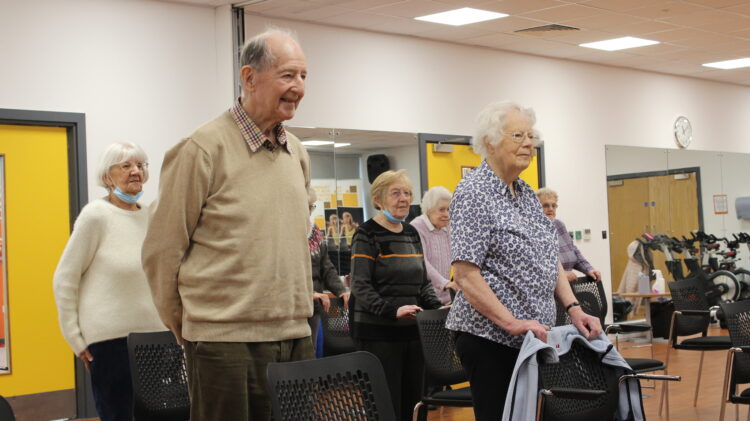 Photo caption: Everybody Health and Leisure Be Steady Be Safe
Everybody Health and Leisure, who have recently started to manage The Madeley Centre, are looking forward to providing more health and wellbeing opportunities for the local community.
Everybody Health and Leisure are delighted to share the launch of their balance and mobility classes coming to The Madeley Centre this May!
Donna Williamson, Senior Manager of Health Innovation, at Everybody Health and Leisure shares;
"Be Steady Be Safe is a gentle exercise class suitable for people with poor strength, mobility and balance, wanting to reduce falls, increase social interaction and improve overall wellbeing.
Our Be Steady Be Safe classes are already held at a number of locations across the area, delivered by our qualified Otago Exercise Instructors. We very much look forward to delivering these classes at The Madeley Centre and meeting the community at our free taster session or our weekly classes."
The classes will be held weekly and will include low level, simple exercises focusing on leg muscle strengthening and balance retraining, each attendee will receive a home exercise booklet and information reducing the risk of falling.
The classes will be in a friendly, welcoming environment and are suitable for anyone that has poor mobility, strength and balance, and could be at risk of falling.
Everybody will be delivering a bookable free taster session on Monday 16th May 11am -12pm for the community to come and try these sessions and thereafter, a weekly session will take place from 23rd May 11am -12pm.
Booking is essential for both the free taster session and the weekly chargeable sessions (£5 per class) which can be paid for at The Madeley Centre reception on the day. To make a booking, please visit The Madeley Centre or call 01782 751808 or email: [email protected]
Ends.
Notes to Editor
Everybody Health and Leisure is a registered charity which aims to provide 'leisure for life' by improving the health and wellbeing of local communities. The charity operates 16 leisure facilities including 9 swimming pools and 7 Taste for Life cafes across the Cheshire East region, and delivers a range of targeted health, sports and disability and inclusion programmes. For more information please visit: www.everybody.org.uk or follow on Twitter @ebleisure.
Media Contact
Name: Lucy Bourne
Email: [email protected]
Telephone: 07773976464