Everybody Awards 2019: Winners Announcement
The Everybody Awards 2019, took place on Friday 11th October at the prestigious Crewe Hall, recognising exceptional achievements of sporting and community heroes in Cheshire East.
Over 190 guests enjoyed the evening, presented by Baroness Tanni Grey-Thompson, Paralympic athlete, DBE, and crossbench peer, with 16 Paralympic medals to her name – 11 of which are gold – and 13 world championship medals. Megan Giglia MBE, shared her inspirational journey on how she overcame an Acute Brain Haemorrhage in 2013 to receive the first gold medal for team GB and 2 world records at the 2016 Rio Paralympic Games.
Sports Personality of the Year – Sponsored by Applewood Independent
Josh Betteley –Para-athlete
Jack Schofield – IronMan Athlete
Daisy Pickles – Macclesfield Duathlon Athlete
Nicole Hazell – Team GB Gymnast
Winner: Jack Schofield
Jack has competed in a series of Ironmans around the world winning European and World champion medals. Despite suffering knee injuries in 2017, Jack still has sights on attending his pro card and becoming 'one of the best in the world.'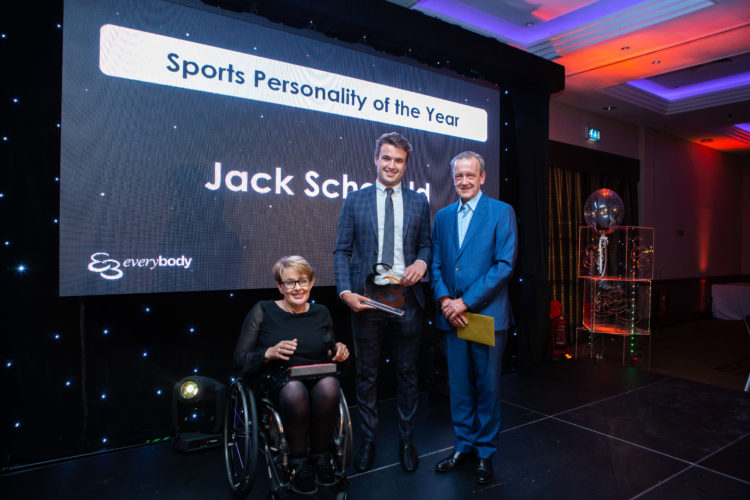 Young Sports Achiever – Sponsored by Technogym
Alfie Carter – Crewe and Nantwich Athletics
Milly Horsefield – Crewe-  Judo (British Champion)
Alisha Evanson – Crewe – British National Tumbling Champion
Winner: Milly Horsefield
In December Millie stepped up to a new age band (Pre-Cadet) and won all of her fights to become British Champion. In February she added the English title to this and also won the North West Area championships 3 years in a row.
As a result of this she was selected to be part of an England representative team to fight in the Budo Nord tournament in Holland, where she achieved second place against girl's significantly older and higher belts than herself.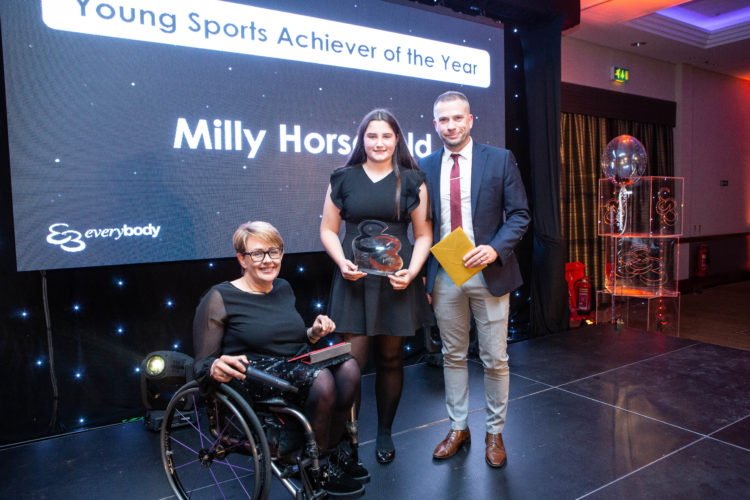 Disabled Sports Achiever – Sponsored by Crewe Town Council
Poppy Maskill – S14 classified para swimmer
Josh Betteley – Crewe – Para-athlete
Isaac Blackman – Boccia – Macclesfield
Winner: Josh Betteley
Josh was in a serious car accident in December 2016 and sustained a serious brain injury. Previous to that he was progressing well as a runner who had competed for county and also for the North of England at cross country.
This year, Josh became British record holder for both 800m & 1500m, is now ranked number 1 in 800m & 1500m in the T38 Category. Has just won his first England vest and selected for the British Athletics Para Athlete Development Academy.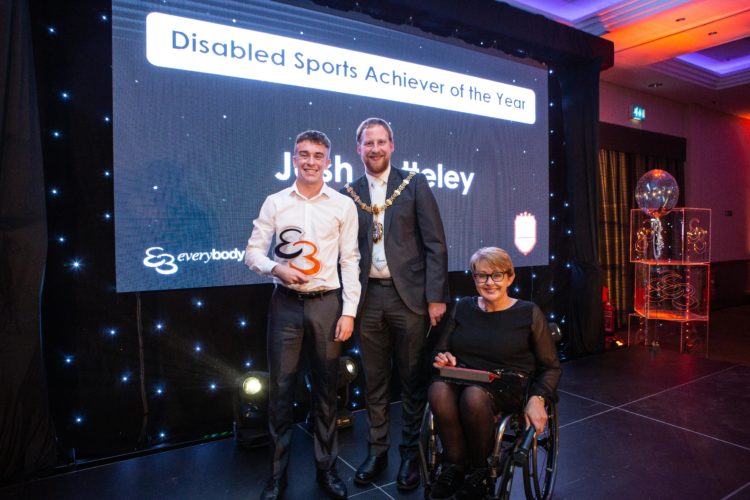 Coach of the Year – Sponsored by Cornerstone
Becky Sidwell – Macclesfield – Macclesfield Netball Club
Simon Jones – Crewe –  South Cheshire Amateur Boxing Club
Sammy Hill – Crewe – Camm Street Fitness Centre
Peter Brady – Kenzoku Jujitsu Congleton
Winner: Sammy Hill – Camm Street Fitness Centre
Last year Sammy took 4 teams through into the British championship finals where her level 3 group were crowned champions! This year 3 teams have qualified for the finals in July. Also 7 of her gymnasts represented the country in team GB at the European championships last year in Portugal.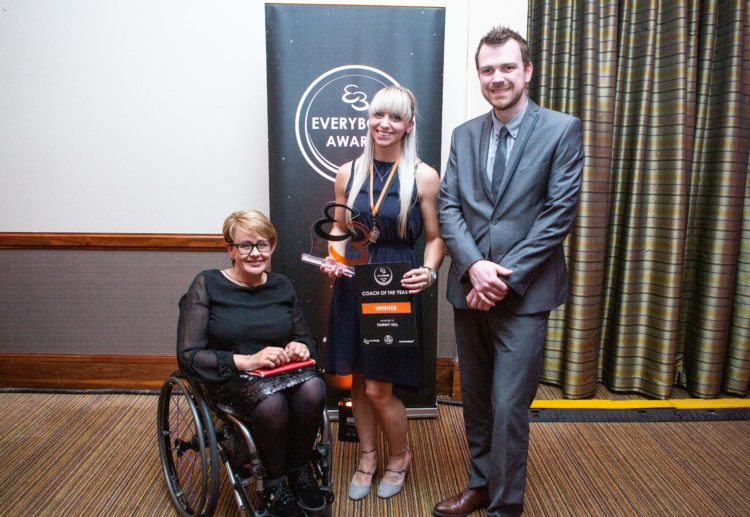 Customer Hero – Sponsored by XN Leisure
Josh Mitchison – Holmes Chapel Community Centre
Pauline– Crewe Lifestyle Centre
James Rourke –Holmes Chapel Community Centre
Macdolf Osei-Kuffour – Crewe Lifestyle Centre
Winner: Pauline 
Pauline became desperate and claimed she had "lost all positivity". Her daughter suggested the ESCAPE-pain programme, although reluctant, Pauline took the plunge and called straight away.
By week 3, Pauline had noticed a real difference in herself, physically – she felt more mobile and her pain was reduced, usually taking 8 strong painkillers a day, she had reduced this to only 2. She no longer felt reliant on her walking stick and was excited about how she would improve even more. She felt a lot better mentally and could feel herself becoming more like her old self, she was positive about the future and happier about her life.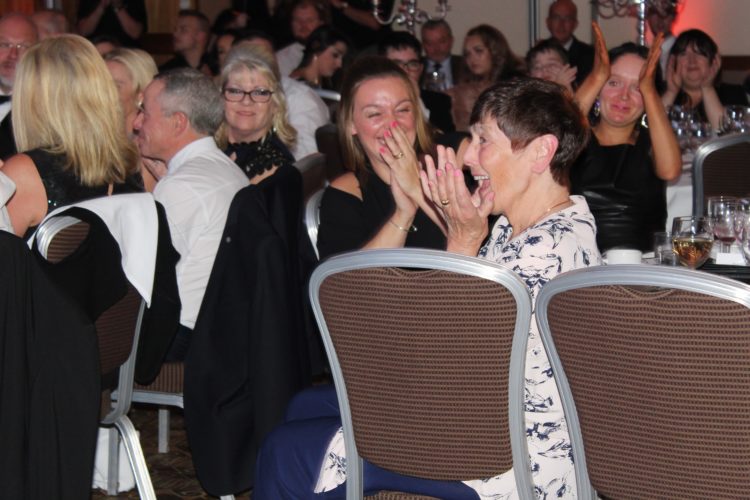 Health and Wellbeing – Sponsored by Heath Innovation Manchester
Ruby's Fund – Congleton
Elworth Pre-school – Sandbach
MS Society Macclesfield
Ride! – Nantwich
Winner: Elworth Pre-school
Celebrating its 45 year birthday, Elworth Pre- school work hard to instill in their children (aged 2-5 years old) how important it is to remain healthy, particularly through healthy eating and exercise.
This year the school have provided a sponsored 'Teddy Trek' enabling families to walk together in a safe environment, whilst raising funds for the group.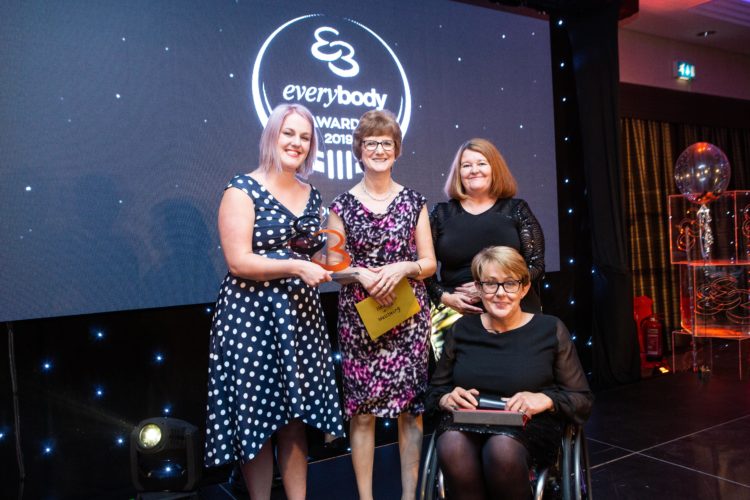 Club of the Year – Sponsored by SpeedFlex
Cheshire Stars Netball – Middlewich
SDA – Street Dance Academy – Sandbach
Crewe and Nantwich Rugby Club Ladies – Crewe
Winner: Crewe and Nantwich Rugby Club Ladies
A team based around a combination of local and university talent, supporting 25 regular players, the squad has grown to nearly 40 playing members, a junior girls section over 45 participants, and a developing coaching team made up primarily of locally developed talent. The club has 2 fully qualified referees, bringing rugby to a significant number of new participants.
Captain Mollie Latham won the Women's Player of the Year at the national rugby awards, coming second in the league and runners-up in the Intermediate National Plate.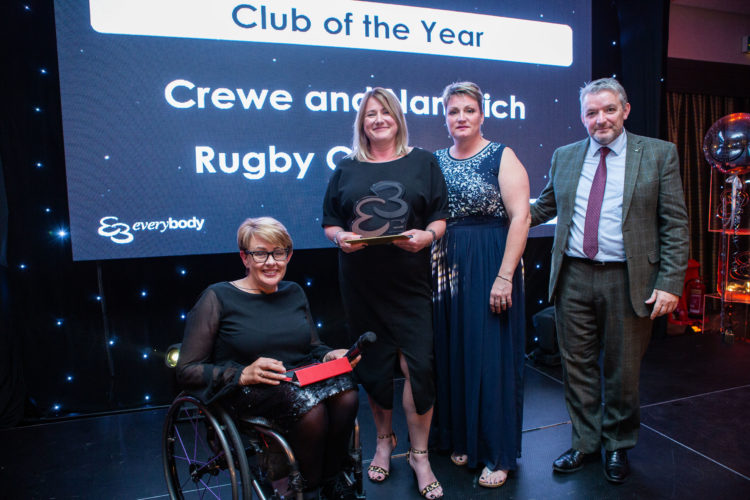 Volunteer of the year – Sponsored by Bates Wells
Claire Standley – Cheshire Netball League
Julie Brookshaw – Cheshire Stars Netball – Middlewich
Sam Parker – Nantwich – Crewe FC
Winner: Claire Standley – Cheshire Netball League
Claire has organised the Cheshire Netball League over the past 10 years as a volunteer. Claire provides weekly communication to around 40 teams in the league. She coordinates fixtures for 3 nights a week at 3 different locations, as well as ensuring there is umpire cover for all matches. Claire spends up to 5 hours a week doing this alongside a full time job and being a parent.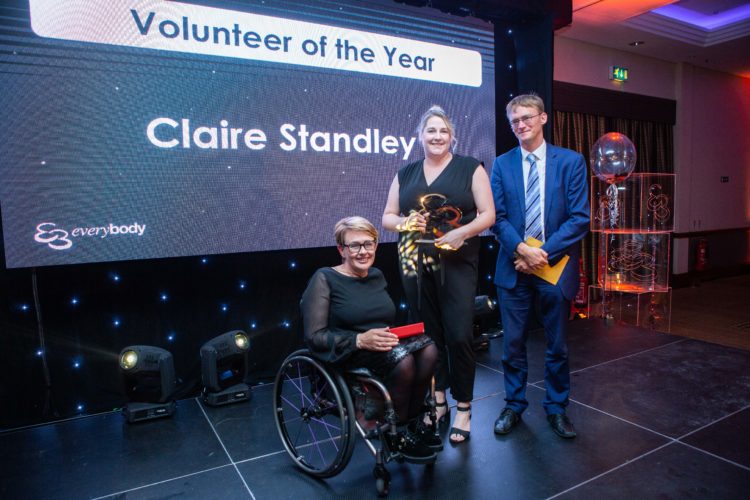 Young Volunteer of the Year – Sponsored by FitAsylum
Winner: Abigail Painter – Crewe
Abigail is one of the most pleasant young adults you could meet. She volunteers her time at Everybody gym in Crewe with swimming, she has been to Germany with the air cadets, she helps her aunt at the hairdressers helping the older ladies making tea. She has just won an award at school for most enterprising young girl in the country. She helps whoever whenever and is a great asset to the Everybody gym.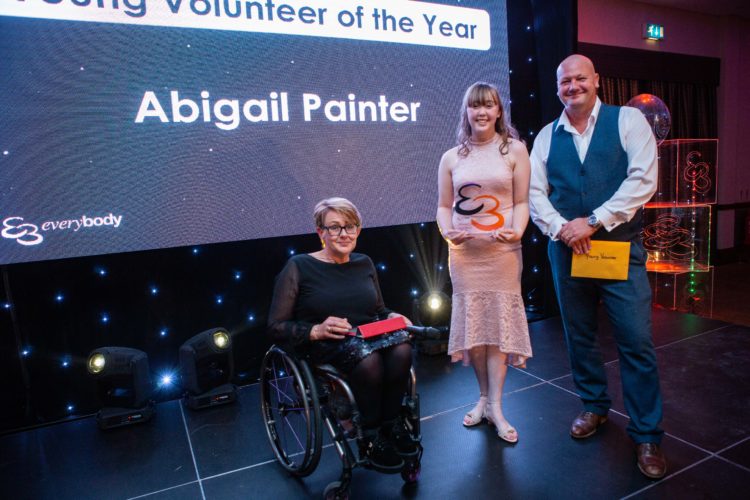 Chairman's Award- Awarded by Everybody Sport and Recreation
Winner: Simon Jones
The Chairman's Award is an award which recognises a nominee even further for their dedication to sport, health and wellbeing in Cheshire East.
This years winner was Simon Jones, because of the impact he has on the community. Simon started coaching at South Cheshire Amateur Boxing Club in 2015, he passed his level 1 and level 2 England boxing coaching badges.
On a competitive level, Simon has assisted in coaching 7 regional champions and 2 national champions along with coaching over 100 boxers every club night, with children and adults from all ethnic backgrounds and all abilities and challenges.
But this is so much more than a boxing club, Simon has been at the forefront when pushing incredibly important workshops in the club, including, knife crime, anti-bullying campaigns and school boxing projects.
Simon is passionate about guiding local children down the correct pathway, Simon is making that difference and giving the kids something to channel their energy in to in a positive way.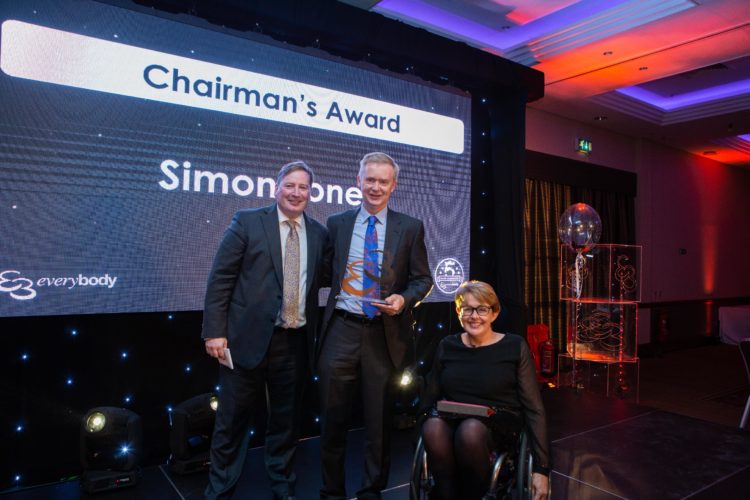 Lifetime Achievement – Sponsored by Brakes
Winner: Ron Gill
Local retired businessman Ron Gill is standing down after an incredible 38 years of service as Chairman of Macclesfield Seals Swimming Club.
Macclesfield Seals Swimming Club is a social swim club for people with disabilities, from any age group, children and adults, with any kind of disability.   The Seals Club was formed in Spring 1957, and now meets at Macclesfield Leisure Centre pool each Friday evening.
Ron started to swim with the Seals as a young man in the early 1970s. An amputee himself, he says that he gained such a lot from being a member, that when someone was required to help on the committee, he accepted the post of Chairman. He has been Chairman for 38 years, and has been poolside every week, encouraging, keeping order and making sure everyone has a good time.
Although Seals is not a teaching club as such, Ron has encouraged and enabled many members to learn to swim or improve their skills, gaining badges along the way, and Ron has fostered a great caring family atmosphere amongst all the members. Many people visiting the Club are astonished at the unique atmosphere.
Ends.
Notes to Editor
Everybody Sport & Recreation – Everybody is a registered charity and company limited by guarantee. As a Health and Wellbeing Charity, Everybody Sport and Recreation aims to provide 'leisure for life' by changing lives through healthy recreation. The charity operates 15 leisure facilities across the Cheshire East region as well as a range of Health, Leisure Development and Outreach programmes and the new Everybody Academy, providing local training and career opportunities. For more information please visit: www.everybody.org.uk or follow on Twitter @ebleisure.
Media Contact
Name: Lucy Bourne
Email: [email protected]