Let's get cooking Cheshire East! With everything that's going on, let's not forget to keep looking after ourselves, staying healthy and keeping as active as we can! Our health team will be sharing regular healthy recipes for you to make and enjoy, all as we ask is you don't forget to share your food pics with us on social media Twitter and Instagram: @EBLeisure and Facebook: @EverybodySportRecreation.
Chicken Fajitas & Fajita Dips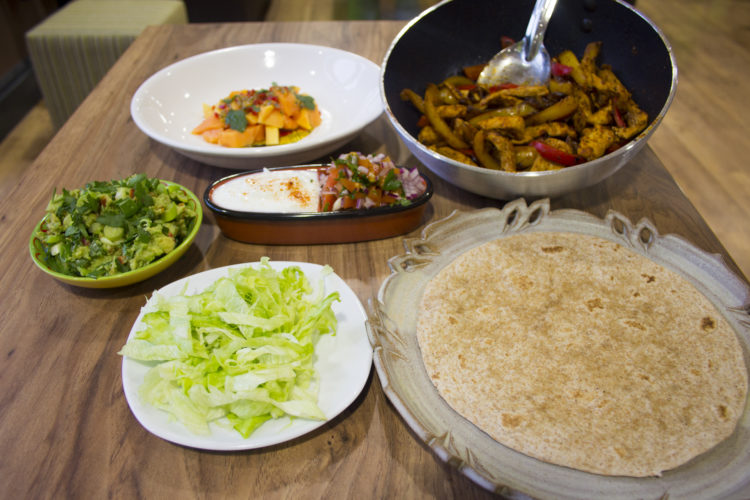 A tasty and easy sauce to make. A good replacement for a take-away! Packed with protein and vitamins too!
PREP TIME: 20 mins
COOKING TIME: 30 mins
SERVES: 4 portions
Ingredients
• 1 tbsp vegetable oil
• 1 large red onion, thinly sliced
• 1 red pepper, cored, deseeded and thinly sliced
• 450g/1lb chicken breasts, skinned and cut into thin strips
• Pinch of paprika
• Pinch of mild chilli powder
• Pinch of cumin
• Pinch dried oregano
• 4 soft wholemeal tortillas
• 1/2 iceberg lettuce, finely shredded
Method
1. Heat the oil in a wok or large non-stick frying pan, add the onion and peppers and stir-fry for 3-4 minutes.
2. Add the chicken, paprika, chilli powder, cumin and oregano and cook for 5 minutes, or until the chicken is cooked through.
3. Warm the tortillas in the microwave for 1 – 2 minutes or briefly under the grill or wrap in foil and place for 5 minutes in a preheated oven gas mark 4/180ºC /160 ºC fan for 5 minutes.
4. Spoon one-quarter of the chicken mixture into the centre of each tortilla, add a couple of tablespoons of salsa and some shredded lettuce. Roll up and serve warm with guacamole and Greek yoghurt and cayenne dip (see Fajita dips for these recipes below)
NUTRITIONAL INFORMATION PER PORTION*
*All nutritional information is approximate
| | |
| --- | --- |
| Energy | 375kcals |
| Protein | 22.5g |
| Fat | 9g |
| Saturates | 1.5g |
| Carbohydrates | 51g |
| Sugars | 9.5g |
| Dietary Fibre | 3.8g |
| Salt | 0.3g |
Fajita Dips
Some tasty dips to spice up and add extra flavour to your yummy chicken fajitas. They are easy to make and are full of nutrients, helping towards your 5 a day!
PREP TIME: 20 mins
COOKING TIME: 0 mins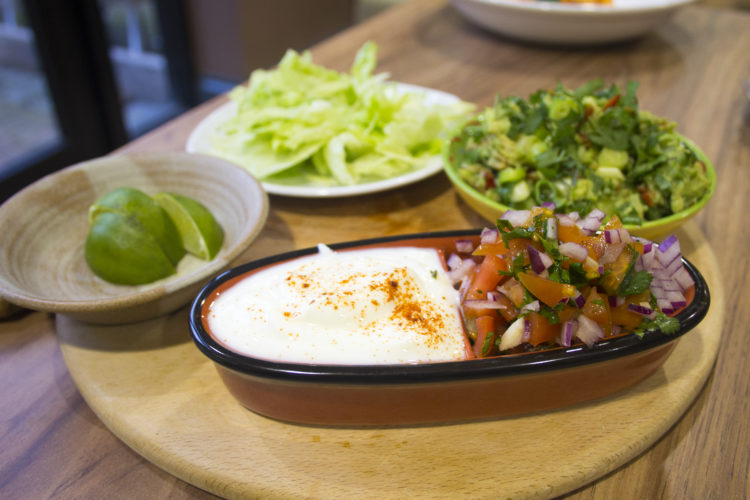 SERVES: 4 portions
Tomato Salsa
• 1 small red onion, finely chopped
• 425g cherry tomatoes, chopped
• 2 garlic cloves, crushed
• Large handful of fresh coriander leaves, chopped
• Freshly ground black pepper
Combine the onion, tomatoes, garlic and coriander in a bowl. Season with freshly ground black pepper. Cover and chill for 30 minutes.
Papaya & Passion Fruit Salsa
• 1 papaya, peeled, deseeded & diced
• 1 red chilli finely chopped and deseeded
• ½ – 1 of a lime, juice
• 1 passion fruit, halved, seeds removed
• Few fresh mint leaves, shredded
Combine all the ingredients together, cover and chill for 30 minutes.
Yoghurt & Cayenne
• 4 dessert spoons Greek yoghurt
• Sprinkling cayenne pepper
Sprinkle cayenne over the top of the yoghurt in a small.
Guacamole
• Avocado, halved, stone removed
• Lime juice
• 1 chilli, halved, deseeded and finely chopped
• A cherry tomatoes, finely chopped
• 2 spring onions, finely chopped
• A few coriander leaves, finely chopped
Cut the avocado in half working round the stone. Use a dessert spoon to scoop out the stone and then the flesh. Mash the flesh with the juice. Add all the other ingredients, serve.
NUTRITIONAL INFORMATION PER PORTION*
*All nutritional information is approximate
                                             Tomato Salsa

Papaya &

Passion Fruit Salsa

Guacamole

Yoghurt & Cayenne

Energy

22kcal

46kcal

67kcal

18kcal

Protein

1.3g

0.3g

1g

0.5g

Fat

0.3g

0g

5.3g

1g

Saturates

0g

0g

0.8g

1g

Carbohydrates

6g

12.3g

5.5g

1g

Sugars

3.3g

0.8g

1.3g

0.5g

Dietary Fibre

1.5g

0.5g

3g

0g

Salt

Trace

Trace

Trace

Trace