FOR IMMEDIATE RELEASE
14/01/2021
Pre-Schoolers Dance Their Way Through Lockdown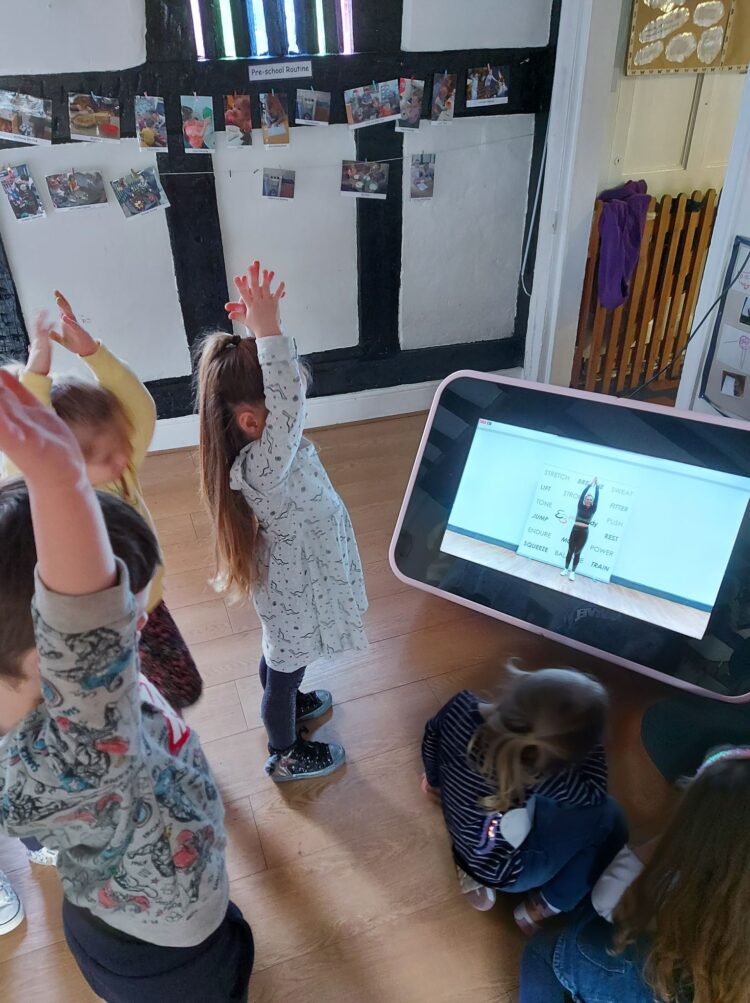 Image caption: preschool children from Townhouse Nursery Alsager taking part in Family Dance Fit by Everybody @ Home
Pre-schoolers at Townhouse Nursery in Alsager have been getting active with online Family Dance Fit workouts by Health and Wellbeing Charity Everybody Leisure.
We all know how important it is to keep children active and healthy, but with the added pressures of home schooling and a national lockdown, children have once again been forced to spend more time than ever indoors at home. As parents, we are very likely to be juggling working from home and multi-tasking with home schooling and with only being able to exercise outdoors in our local areas once a day, it is very likely that our children are being less active than ever before.
Research from Sport England suggests that before the pandemic children's activity levels were very low, with only 47% achieving the recommended 60 minutes of physical activity a day. Coronavirus has meant this has decreased even further to only 20% during the last school closure period in Spring 2020.
To try and combat these issues, health and wellbeing charity Everybody Leisure which operates the local leisure centres in Cheshire East has launched a new website Everybody@Home which hosts over 30 live fitness classes a week and on-demand fitness videos.
This January Everybody has launched Family Dance Fit. It is an online fitness class with fun moves and music to keep the whole family active and moving and local pre-school children from Townhouse Nursery got the chance to take part.
Alison Fisher, nursery manager commented, "Children's wellbeing is at the centre of everything we do at Townhouse. Part of our wellbeing focus is the importance of our children having access a variety of physical activity throughout their day at nursery. The children thoroughly enjoyed the session from Everybody as they were introduced to lots of different exercise moves to some fabulous music. They were motivated by each other and the staff as everyone followed the programme. It is a great addition to supporting our children's wellbeing especially through these difficult times that we are currently facing."

Jade Griffin, Senior Marketing Manager at Everybody Leisure commented, 'it's really important for us to be engaging with as many people in Cheshire East during this lockdown, in particular families and young children; to try and get people moving and active. The Family Dance Fit class has been a fantastic addition to our online timetable this month and we were so pleased when Townhouse Nursery took part.

She continued, 'It is fantastic to see early years settings taking health and wellbeing of their young people so seriously and we look forward to sharing more ideas and fun workouts and games with the children.'
Everybody Leisure is offering all the online health and fitness workouts for free whilst the leisure centres are closed. There's also some fun 10 minute family games and free wellbeing resources on their website everybody.org.uk
More information on how to register to access the free workouts can be found here: https://everybody.org.uk/everybody-on-demand/
ENDS
Notes to Editor
Image caption: preschool children from Townhouse Nursery Alsager taking part in Family Dance Fit by Everybody @ Home
Everybody Sport & Recreation – Everybody Sport and Recreation is a registered charity and company limited by guarantee. As a Health and Wellbeing Charity, Everybody Sport and Recreation aims to provide 'leisure for life' by changing lives through healthy recreation. The charity operates 16 leisure facilities across the Cheshire East region as well as a range of Health, Leisure Development and Outreach programmes and the new Everybody Academy, providing local training and career opportunities. For more information please visit: www.everybody.org.uk or follow on Twitter @ebleisure.
Media Contact
Name: Jade Griffin, Senior Marketing Manager
Email: [email protected]