Media release
Classes are essential for member Lisa's Mental Health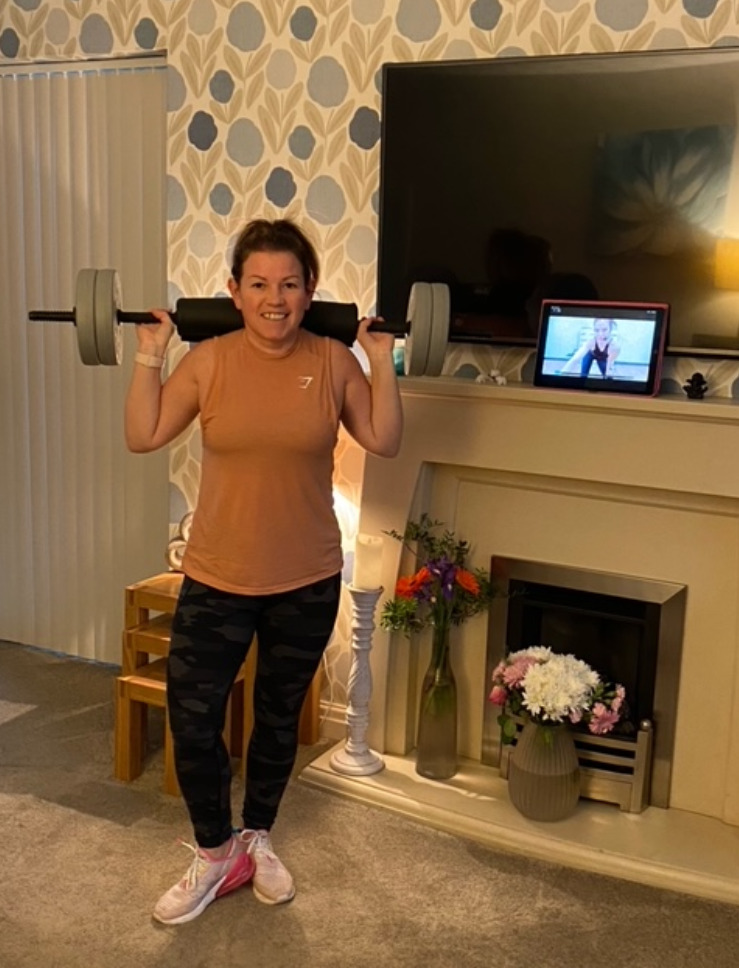 Lisa Bosworth has been a member at Macclesfield Leisure Centre for around 6 years after joining as a way of dealing with a cancer diagnosis within her family.
When Lisa first heard we were going into lockdown and the gyms were having to close back in March 2020, she was really worried about how it was going to affect her as she found exercise essential to her mental health.
However, for nearly 12 months Lisa has been taking part in the online health and fitness classes that local health and wellbeing charity Everybody Sport and Recreation has been offering and commented, "I cannot praise the [Everybody] team enough, they have quite literally saved my sanity! I actually think as the classes are more targeted than those I was doing at the gym, that I am stronger and more toned with the online classes."
Since last March, Lisa has never missed a Legs, Bums and Tums online class with Victoria, one of the Master Fitness Leads at Everybody. Even when the centres were able to open back up over the summer months, she managed a mixture of online and in-studio classes in Macclesfield.
Lisa takes part in a variety of classes on the Everybody @ Home website, her favourite being Legs, Bums and Tums, Plates and Weights, Kettlebells and the occasional HIIT class.
The great thing about Everybody @ Home is there are over 25 live classes a week so an amazing variety of classes! It is flexible as you get access to on demand classes that can be done anytime. All Everybody live classes save to the platform meaning subscribers can catch up on a day and time that suits.
Lisa continued, "The classes are essential for my mental health, it's too easy not to have a routine in lockdown even though I am working full time at home, and have done throughout all the lockdowns, exercise is my time. No work, no children, just me. The fact I can do the classes in my own time (usually working when they are live) means I can fit in a class most days."
Everybody @ Home is delivered by an expert team of Health and Fitness instructors who are qualified in a range of disciplines including Les Mills, Yoga, Pilates, Dance Fit and more. Access to the website is currently free of charge whilst Everybody Sport and Recreation Leisure facilities are closed to keep people active from home.
Lisa feels the online workouts have been essential to getting her through the lockdown periods,
"The instructors are just amazing! You [Everybody] got me through the last 2 lockdowns and you're getting me through this one too. I cannot thank you all enough. It's so cheesy but the workouts give me purpose to my days."
More information on how to join can be found at: www.everybody.org.uk/everybody-on-demand
Ends.
Notes to Editor
Everybody Sport & Recreation – Everybody Sport and Recreation is a registered charity and company limited by guarantee. As a Health and Wellbeing Charity, Everybody Sport and Recreation aims to provide 'leisure for life' by changing lives through healthy recreation. The charity operates 16 leisure facilities across the Cheshire East region as well as a range of Health, Leisure Development and Outreach programmes and the new Everybody Academy, providing local training and career opportunities. For more information please visit: www.everybody.org.uk or follow on Twitter @ebleisure.
Media Contact
Name: Lucy Bourne
Email: [email protected]
Telephone: 07773976464