Retired couple turn to exercise to socialise and stay active during lockdown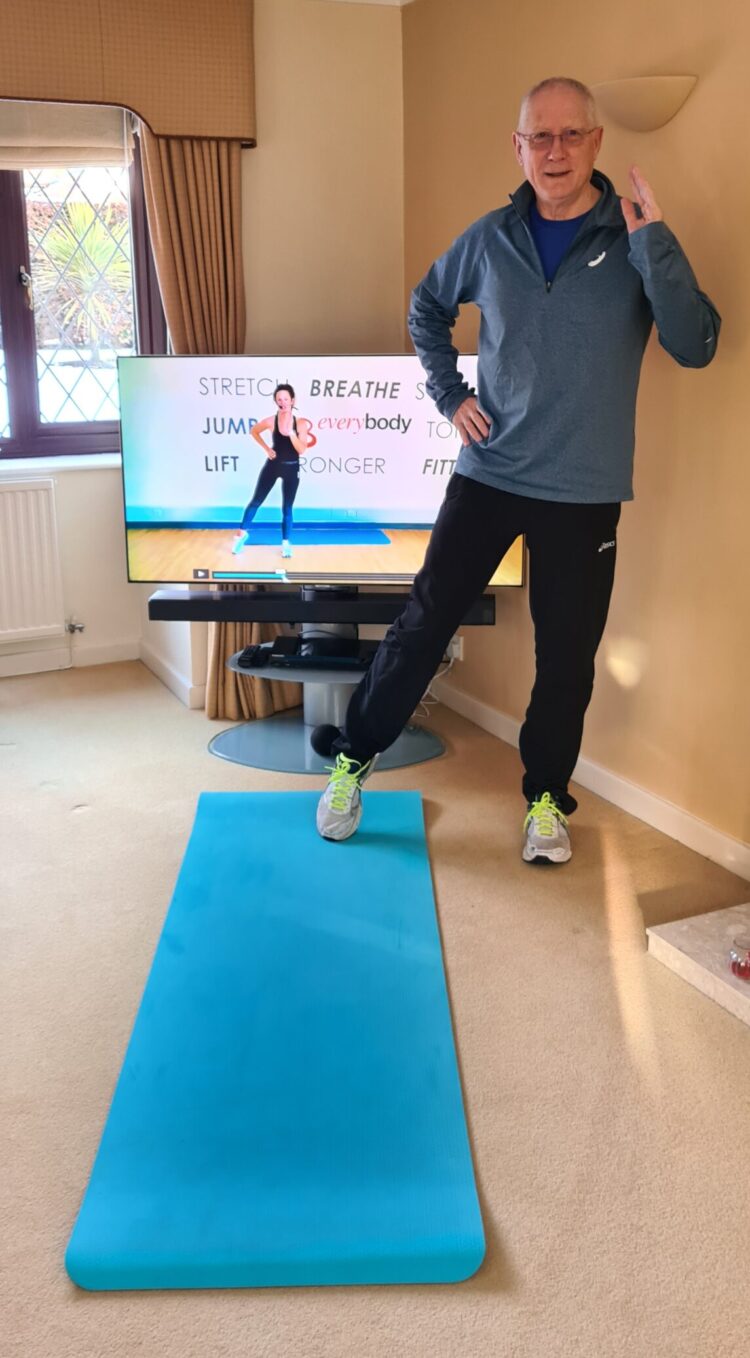 Retired Martin Elliott, 69 from Holmes Chapel has embraced technology, continuing with his fitness journey online and has not seen this as a barrier to exercise!
Making his health and fitness a priority by keeping active during lockdown, online since April 2020!
Martin is usually a very sociable person, exercise and keeping active is a key part of his life, being a regular member at Everybody Sport and Recreations classes at Holmes Chapel Community Centre. As well as other interests and community involvement including, being a member of the Parish Council, a trustee on an educational trust, speaker secretary for a local Probus group and member of the local U3A.
Martin has a shared interest with his wife, as she also takes part in the online classes, a topic they can both talk about and both use virtual fitness to feel connected to their local community "it increases the feeling of being part of a wider group" shares Martin.
Keeping active at home with his wife is "a bit of a team effort" shares Martin. Carole, Martin's wife, keeps a track of the Everybody @ Home classes and ensures they go into the diary.
Martin shares "I am the driven one making sure we login and are ready for the class and makes all the chat comments."
A new function to the Everybody @ Home website so members can socialise virtually and chat to the instructor and other members.
Carole shares "As both of us enjoy the classes and being part of a wider group, albeit virtual, we are more motivated to join in. I suspect if only one of us was interested we may do less."
Martin has tried a range of Everybody's online classes including Stretch & Tone, Yoga, Pilates, Body Conditioning and Legs Bums, Tums. "I like to balance classes between cardio and stretching/flexibility to maintain an overall healthy exercise routine."
Since taking part in the online classes Martin shares that he has maintained a decent level of fitness, kept his weight under control and has retained a positive mental health outlook.
 "The motivation and encouragement provided by the instructor, we think that Victoria is fantastic and has helped us through lockdown.
 It is not just about the class or the workout it is also the small things, her chat recognising the chat people, the comments about my dumbbells and making us feel we are in her class. Not forgetting her dance moves as part of the class. Victoria is the best."
Everybody @ Home is delivered by an expert team of Health and Fitness instructors who are qualified in a range of disciplines including Les Mills, Yoga, Pilates, Dance Fit and more. Access to the website is currently free of charge whilst Everybody Sport and Recreation Leisure facilities are closed to keep people active from home.
Martin shares that he would recommend anyone to develop a regular exercise routine as part their normal life, whether that's at the gym when they reopen or online.
 "It not only helps you physically but also mentally to stay positive. Perhaps the new saying should be "exercise today keeps the doctor away"
More information on how to join can be found at: www.everybody.org.uk/everybody-on-demand