Media Release
Smart restart session gets Everybody Member David started on his fitness journey!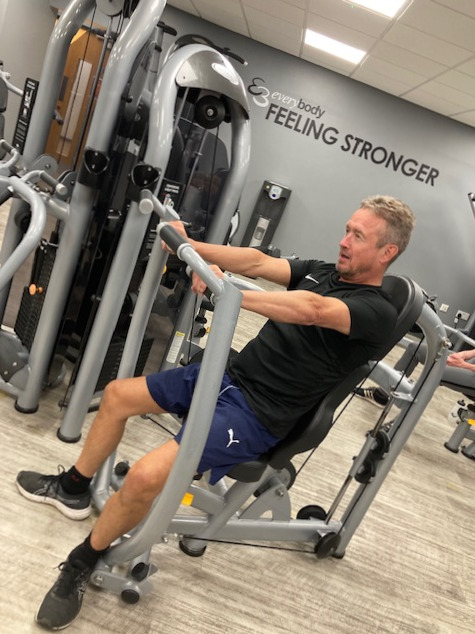 David Egerton, 58 from Crewe is a member at Shavington Leisure Centre. David joined Everybody Sport and Recreation 6 months ago as he had taken early retirement, had time on his hands and wanted to get a bit fitter.
David hadn't been to a gym for 15 years and since joining Everybody, he now feels confident using the gym and has improved his strength and stamina.
David shares "The gym looked decent and they have all of the kit I want to use. Ian offered me a Smart Restart session, which really helped remind me of how to use the kit and got me started."
Smart Restart sessions are new to Everybody Sport and Recreation, sessions are for members who may be desperate to get back to the gym after the lockdown but unsure of how to get started or for members who maybe need some help and guidance with what is best to do in the gym to achieve their goals.
These 30 minute sessions are included as part of Everybody's memberships and are the perfect way to get your health and fitness journey restarted. Members receive a full body analysis from one of their highly trained health and fitness teams. Followed by a full personalised programme that will support members in all of their goals.
"Ian asked me what my goals were and if I was interested in the restart program and when he explained what it entailed, I thought why not, give it a go.
Ian, along with all of the other staff always have a chat with me and Ian regularly helps me adjust my program and added new exercises so I haven't got bored and carried on making improvements."
David commented to say he would recommend it to anyone, it's not intrusive and helps you find out what you want to do and achieve.
 "I have been to a few gyms in my time and I can honestly say that the Shavington gym is run brilliantly. Whenever I need to find out something about the equipment or if I am doing the exercises right there is always someone to help me."
If you would like to find out more about Everybody's Smart Restart sessions visit www.everybody.org.uk
 Ends.
Notes to Editor
Everybody Sport & Recreation – Everybody Sport and Recreation is a registered charity and company limited by guarantee. As a Health and Wellbeing Charity, Everybody Sport and Recreation aims to provide 'leisure for life' by changing lives through healthy recreation. The charity operates 16 leisure facilities across the Cheshire East region as well as a range of Health, Leisure Development and Outreach programmes and the new Everybody Academy, providing local training and career opportunities. For more information please visit: www.everybody.org.uk or follow on Twitter @ebleisure.
Media Contact
Name: Lucy Bourne
Email: [email protected]
Telephone: 07773976464