Everybody Sport and Recreation are delighted to share the news that their popular lunch club is returning to Holmes Chapel Community Centre from the 4th of October. The lunch club launched back in 2019 and was busy and full of friendly faces, providing company, tackling loneliness and social isolation.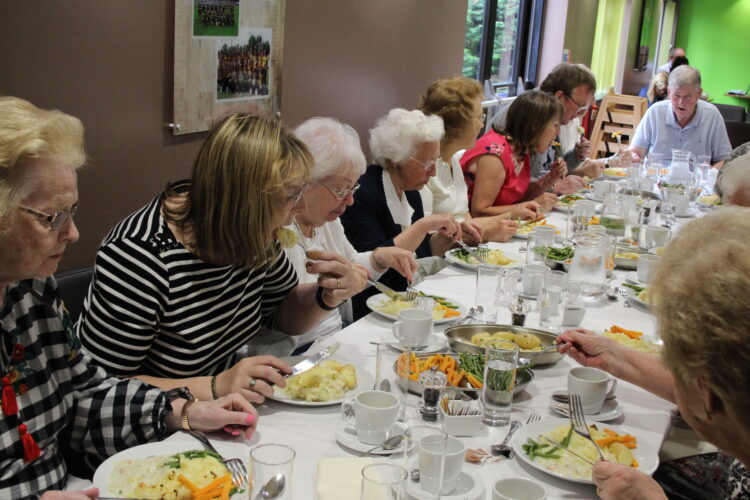 Due to the pandemic, Everybody were unable to continue offering their lunch club, during a time where loneliness and isolation were more apparent than ever. Since re-opening, they have been dedicated to bringing the session back and ensuring that the same fun and inclusive environment would be offered again.
Everybody's on site café Taste for Life will be providing a two course lunch as well as unlimited tea and coffee for just £5.
Kerry Shea, Executive Director at Everybody Sport and Recreation shared, "We couldn't be happier that our lunch club is coming back. They have been so successful in the past and it was lovely to see people making friends, having fun and celebrating life together! We knew it was more important than ever to offer the club and we hope those who attend love it just as much as they did pre-pandemic."
Everybody are hoping that the event will allow the local community to once again come together and form friendships, have fun and help to combat feelings of loneliness and isolation.
Would you or someone you know benefit and enjoy the Everybody lunch club? It will run on the first Monday of every month, to book your place contact Holmes Chapel Community Centre on 01477 689557.
Ends.
Notes to Editor
Everybody Sport & Recreation – Everybody is a registered charity and company limited by guarantee. As a Health and Wellbeing Charity, Everybody Sport and Recreation aims to provide 'leisure for life' by changing lives through healthy recreation. The charity operates 15 leisure facilities across the Cheshire East region as well as a range of Health, Leisure Development and Outreach programmes and the new Everybody Academy, providing local training and career opportunities. For more information please visit: www.everybody.org.uk or follow on Twitter @ebleisure.
Media Contact
Name: Lucy Lennon
Email: [email protected]
Tel: 07816 606758