FITNESS UNITES US!
Everybody Unites Children and Care Home Residents through Fitness as part of National Fitness Day
National Fitness Day is an initiative from UKActive which see's leisure facilities across the UK open their doors for free to offer a range of activities as well as providing opportunities to encourage people of all ages and abilities to get active. The theme for this year is 'Fitness Unites Us'.
Everybody Sport and Recreation partnered with The Village Nursery Group and Lovett Care Homes for National Fitness Day on 22nd September to deliver a Yoga session to pre-school children and Tywford House care home residents.
Townhouse Nursery, Audley Road in Alsager welcomed Everybody Yoga Instructor Julie Welch to deliver a 30 minute yoga and relaxation session. Children aged 3-4 took part in the session which was also live streamed through a Zoom link to residents at the Twyford House Care Home also in Alsager.
Jade Griffin, Senior Marketing Manager at Everybody Sport and Recreation commented,

"Our partnership with Townhouse Nursery and Twyford House for National Fitness Day shows that there should be no barriers to exercise and remaining fit and healthy whatever your age or ability – fitness certainly unites us. It was a joy to watch and everyone had so much fun taking part!"

She continued, "National Fitness Day couldn't have come at a better time. We have been welcoming members back to our leisure facilities for a range of activities this summer after long periods of lockdown – it was great to celebrate our members coming back together and also re-engage with our 'Leisure for Life' message with our local communities."
This isn't the first time Everybody has partnered with the Nursery – back in January during the lockdown months, the pre-school children took part in Virtual Dance Fit classes streamed through the Everybody @ Home website.
Andrea Stockton, Assistant Manager at Townhouse Nursery Audley Road commented:
"When we realised that it was National Fitness day, our immediate thought was to get Everybody Sport & Recreation involved to help us celebrate. We always strive to support and promote the wellbeing of our children and to extend this with the help of our local community. It was fantastic to be able to share the experience with the residents at Twyford House. Our partnership is going from strength to strength and the children get so excited when we arrange events and they get to see the residents. It is truly heart warming to see generations united and shows there is no limits when it comes to bonding over exercise! Thank you to Julie for putting together a fabulous session and incorporating our impromptu song time!"
Joanne Owen from Twyford House commented:

"This was the perfect opportunity to get more exercise in Our Residents Days. Fitness and wellbeing is very much included in our weekly activities here at Twyford House, to see the range of ages involved in this yoga session has been amazing to be a part of. Townhouse Nursery have been fantastic for us to feel a part of this community since we opened back in August last year by starting an inter-generational project with us, which always gets our residents up and active."

Twyford resident Phil aged 86 said, "Julie from Everybody did an amazing job with being able to get all the young Children and us old ones moving. I have never done yoga in my life, It was great fun!"

Phyllis aged 89 said, "We always look forward to having different activities with the children. They always seem to give us more energy so that we can get involved. My favourite pose was the Tree!"
During the National Fitness Day customers of Everybody leisure centres came to enjoy a free day of fitness and also shared what 'Fitness2me' means after their workouts – with some stating it makes them 'happy' and able to 'live a long life'.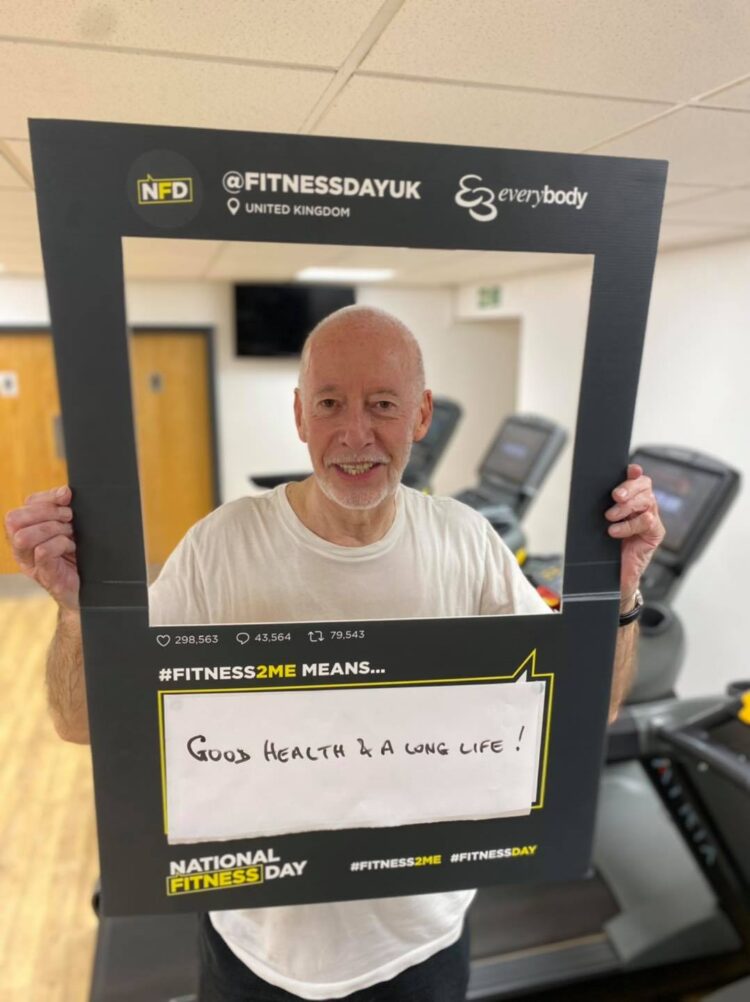 Everybody Sport and Recreation is a health and wellbeing charity which operates 16 leisure facilities across Cheshire East including gyms, 9 swimming pools, group fitness classes and so much more. If you are looking to restart your fitness journey you can find out more about the services on offer at your local Everybody Leisure Centre here: everybody.org.uk  
Ends.
Notes to Editor
Everybody Sport & Recreation – Everybody is a registered charity and company limited by guarantee. As a Health and Wellbeing Charity, Everybody Sport and Recreation aims to provide 'leisure for life' by changing lives through healthy recreation. The charity operates 16 leisure facilities across the Cheshire East region as well as a range of Health, Leisure Development and Outreach programmes and the new Everybody Academy, providing local training and career opportunities. For more information please visit: www.everybody.org.uk or follow on Twitter @ebleisure.