The Everybody Awards 2021, took place on Friday 15th October at the prestigious Crewe Hall, recognising exceptional achievements of sporting and community heroes in Cheshire East from the past 18 months.
Over 190 guests enjoyed the evening, hosted by Baroness Tanni Grey-Thompson, Paralympic athlete, DBE, and crossbench peer, with 16 Paralympic medals to her name – 11 of which are gold – and 13 world championship medals.
Keynote Speaker Adventureman AKA Jamie McDonald shared his spectacular story of challenge and triumph, as well as telling the guests about buying a second hand bike and cycling 14,000 miles from Bangkok to his hometown Gloucester, UK, passing through dozens of countries. He even had the audience up and running in a challenge during his talk and each guest received a signed copy of his best selling book 'Anyone Can be a SuperHero'.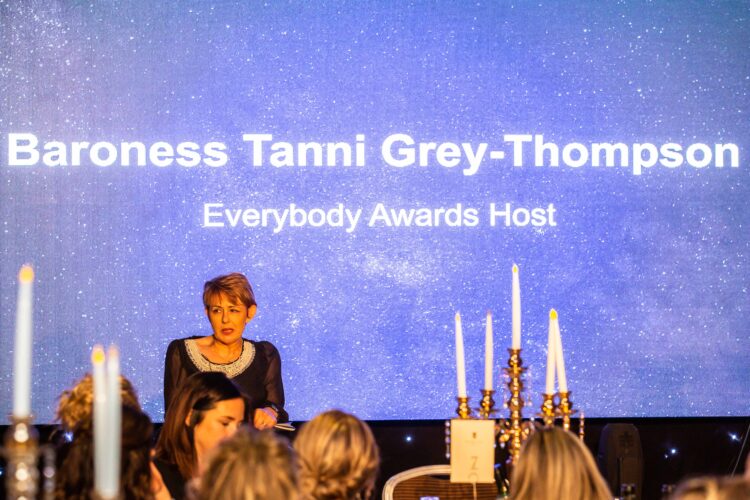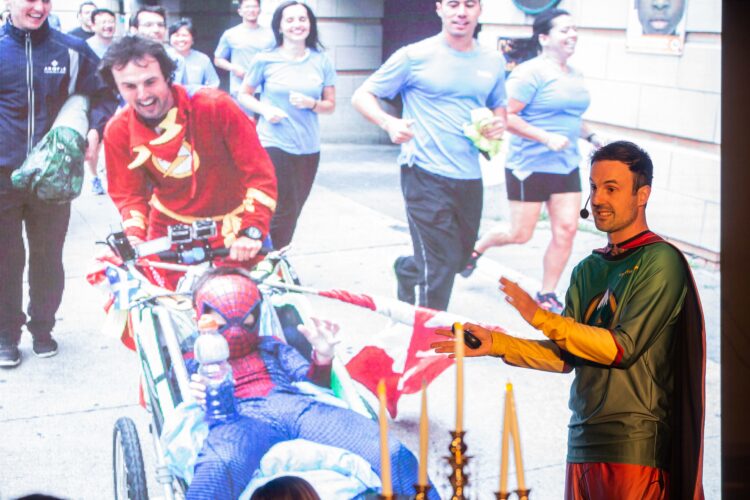 The Mayor of Cheshire East Cllr Sarah Pochin and local business and suppliers who sponsored the event were in attendance to present the winners with their trophies.
The finalists and winners are…
Sports Personality of the Year – Sponsored by Applewood Independent
Matthew Rigby- Obstacle Course Racing – Macclesfield
Nicola Bruce- Ultra Running – Crewe
Joseph Loake- Motorsport – Macclesfield
Winner: Matthew Rigby
Matt is a Level 4 qualified personal trainer from Macclesfield who specialises in obstacle course racing, running and endurance events and currently competes in obstacle course racing and road/trail based running events. He represented Team UK in the OCR World Championships after achieving a top 20 placing in a national qualifying event.
During the lockdowns, Matt worked with Macclesfield Town Council to support people virtually during the pandemic.
Young Sports Achiever – Sponsored by Technogym
Mia Brookes- Snowboarding – Sandbach
Jessica Wright- Touch Rugby – Audlem
Amira Kandeh- Netball – Middlewich
Winner: Mia Brookes
Mia is a Team GB snowsport athlete from Sandbach and competes internationally. This season as Mia turned 14, she was able to compete on a senior European level.
Due to the pandemic Mia and her family to leave the UK in November so that Mia could compete. She made the podium at every Europa cup, even winning two. Mia took bronze place for the Europa cup snowboard slopestyle and big air season 2020/21. Next year Mia is a selected team GB athlete to train and qualify for Milan 2026 Winter Olympics.
Disabled Sports Achiever – Sponsored by David Trowler Associates
Struan Bird- Taekwondo – Wilmslow
Poppy Maskill- Swimming – Middlewich
Winner: Poppy Maskill
Poppy takes part in competitive swimming with Alsager Swimming Club. Representing her club at county, regional and national competitions. Before lockdown Poppy competed in her first World Para Series event. Before classification she raced as an able bodies athlete at county, regional and national level. Poppy competes in all events from 50m sprints to 5000m open water races.
Coach of the Year – Sponsored by Cornerstone
Philip Balcombe- Alsager Swimming Club – Congleton
Amy Clark- Football – Holmes Chapel
Sophie Mills- Gymfinity Gymnastics – Knutsford
Peter Barker – Sandbach Karate Club
Winner: Peter Barker
Peter is a karate coach from Sandbach, who used his love for the sport to support people throughout the pandemic. Peter's main achievement was to keep karate training going for a group of mixed age and mixed ability individuals, who, without Peter's effort and dedication would have been without the sport they love during COVID.
Peter has now established a new club in Sandbach, a potential area of growth as karate becomes an Olympic sport.
Customer Hero – Sponsored by XN Leisure
Tracey Bateman – Knutsford Leisure Centre
Gail Brereton – Crewe Lifestyle Centre
Jim Painter – Crewe Lifestyle Centre
Winner: Jim Painter
Jim, from Crewe started running 14 months ago. He used to go to the gym 2 or 3 times a week before the pandemic. When the gyms were closed he continued his fitness journey and started working out at home with core sessions and running in his local area. He now runs Ultramarathons on a regular basis and recently completed 62.62 miles in 15hours 55 mins! He now has a passion for all things health and fitness and intends to build up his Ultramarathon achievements.
Health and Wellbeing – Sponsored by MHR
Georgia Mallia – Space4Autism
Townhouse Nursery Alsager
Debbie Sharred – Motherwell CIO
Winner: Space4Autism
Space4Autism are an independent Cheshire based charity that provides a range of clubs, activities and services for children, young people and adults with Autism Spectrum Condition (ASC) and their families. They began in 2005 when, as a group of parents of children with ASC, they got together to do something about the lack of support and services for families like theirs.
Their CEO Cheryl was awarded the MBE in the New Year's Honours list. This was great recognition into all the work she has put into Space4autism to make it what it is today.
Club of the Year – Sponsored by FitAsylum
Crewe FC- Football
Run Middlewich- Running
Nantwich Seals- Swimming
Macclesfield Netball Club- Netball
Winner: Crewe FC
Crewe FC is an FA community football club, based in Crewe, offering progression pathway and football opportunities to over 450 children, young people and adults. They have 39 teams as well as running free community sessions throughout the year.
The Club also extended its support to the wider community during the pandemic, offering them access to all the online sessions for free, setting up a foodbank, a free school meal vouchers scheme for local residents to access.
Volunteer of the year – Sponsored by Bates Wells
Greg Stuart- Football – Cheshire East Council  – Middlewich
Grace Dodd- Cheshire Youth League Football – Crewe
Mark Sutton- Alsager Running Club
Winner: Grace Dodd
Grace volunteers her time at 2 organisations within Cheshire East – Cheshire Blades Football Club and the South Cheshire Youth League.
She dedicates her time to football, whether it's coaching her current teams, creating opportunities for players of all abilities to get involved in the sport, and is always looking at ways to make football more affordable/accessible to people.
She fought for, and organised an extension to the season to keep kids active in the sport they love.
Lifetime Achievement – Sponsored by Brakes
Winner: Wilf Saunders
Wilf was responsible way back in 1978 to bring Lads and Dads football to Crewe. A league was started, and it soon grew from strength to strength and widened out in to the South Cheshire area. Due to it's success it was changed to the South Cheshire Youth League and well over 1,000 girls and boys from Crewe, Nantwich, Sandbach and the surrounding area were able to play.
Wilf sadly passed away earlier this year, but deserves massive recognition for the amazing and hard work he dedicated to the Youth League.
Chairman's Award- Awarded by Everybody Sport and Recreation
Winner: Matthew Townsend
Matthew from Holmes Chapel was part of an 18-person team that cycled the full 2021 Tour de France route, one week ahead of the professionals, and raised over £1m for the charity Cure Leukaemia. The event and the charity became the first ever Official Charity Partner of the Tour de France and his team was led by ex-England footballer and Leukaemia survivor Geoff Thomas MBE.
The challenge took place between June 19 – July 11 and consisted of cycling all 21 stages over 3,500 kilometres and with 50,779 meters of climbing.
So far the tram has raised £1,067,438 and all funds from the event will be invested directly into the national Trials Acceleration Programme (TAP) network which Cure Leukaemia began funding from January 2020.
For more information about the Everybody Awards visit:  www.everybody.org.uk/about/everybody-awards-2021/ 
Ends.
Notes to Editor
Everybody Sport & Recreation – Everybody is a registered charity and company limited by guarantee. As a Health and Wellbeing Charity, Everybody Sport and Recreation aims to provide 'leisure for life' by changing lives through healthy recreation. The charity operates 15 leisure facilities across the Cheshire East region as well as a range of Health, Leisure Development and Outreach programmes and the new Everybody Academy, providing local training and career opportunities. For more information please visit: www.everybody.org.uk or follow on Twitter @ebleisure.
Media Contact
Name: Jade Griffin
Email: [email protected]