14.2.22
Britain's Greatest Ever Paralympian, Dame Sarah Storey Officially Opens New-Look Nantwich Leisure Centre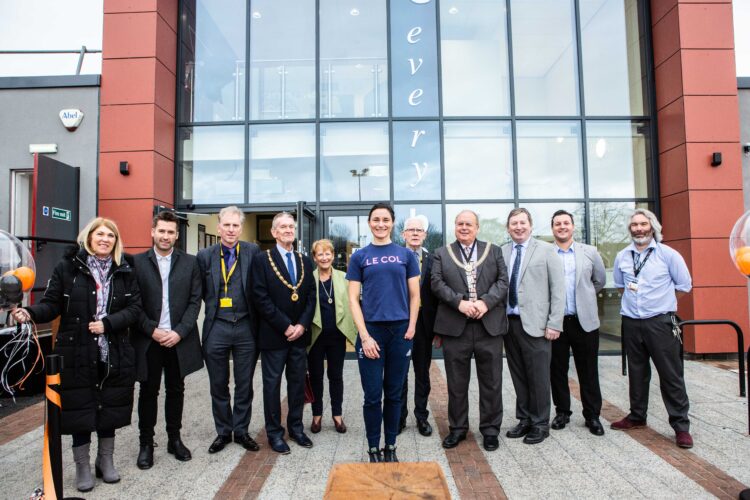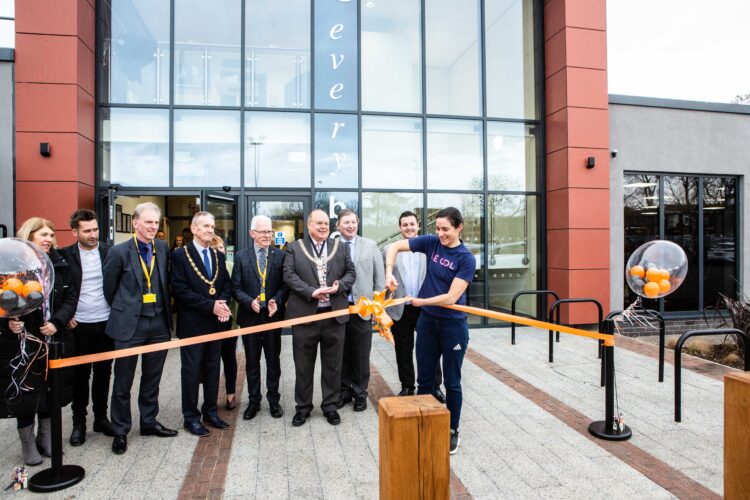 On 12th February, British Paralympian Dame Sarah Storey officially opened the newly refurbished Nantwich Leisure Centre.
The centre and Barony Sports complex has recently undergone a £2.2 million investment in partnership with Cheshire East Council, with a brand new gym extension, indoor group cycling studio, new-look reception and Taste for Life café.
Dame Sarah Storey lives in Cheshire and is known and loved for her achievements as a cycling and swimming Paralympic athlete and is the most successful and decorated British Paralympian of all time with 17 gold medals.
She attended the open day for a tour of the state of the art facility and was joined by VIP's including Everybody Chairman Andrew Kolker, Deputy Mayor of Cheshire East Cllr David Marren and Partnership Director of Equans Ryan Pearce for a ribbon cutting ceremony and champagne reception.
Dame Sarah Storey commented, "I have been blown away by the facilities here at Nantwich Leisure Centre, there is something new and exciting around every corner. I love the fact there are three swimming pools and one is outdoors, I started out as a swimmer and if I had a facility like this locally I wouldn't have needed to join a big swimming club as this is such an amazing place.

It was great to see the new cycling studio and gym equipment and how this brings the community together to stay fit and active, the people of Nantwich have somewhere to come and live happier and healthier lives together."
Andrew Kolker, Everybody Chairman commented, "We were delighted in 2018 to work with all the 4 local councillors to secure a £2.2 million investment into the new 'Nantwich Leisure Centre' and at the Barony Sports Complex just around the corner.

Despite the obvious challenges of the past 2 years we have achieved the improved and extended facilities you see today; with a gym fit for the future, a brand new indoor cycling studio, the extended changing and of course the sites very own Taste for Life cafe."

He continued, "It is a credit to so many involved in our team, our colleagues at Cheshire East Council and the Equans contract team that this has been achieved and a we are proud to have Dame Sarah Storey to officially open the new-look centre."
The newly named 'Nantwich Leisure Centre' is a site rich in history within the town dating back to 1935 when the Outdoor Brine Pool first opened, now one of the only inland brine pools left in Britain.
Despite the previous significant investment back in 2012, it soon became apparent that this facility was so well used locally with its legacy of swimming use – but with an increasing demand on the fitness offer – it warranted a greater investment and needed more capacity for Everybody members.
The open day was a chance for the local community in Nantwich and surrounding areas to come and book a tour of the facilities and take part in free taster fitness classes and free personal training sessions in the gym.
The new indoor group cycling studio is a bespoke group cycling studio running Les Mills and Everybody instructor led and virtual classes. Filled with the latest Stage bikes with functions such as SprintShift, quick position adjustments and the accurate data from the Stages Power meter will bring the serious cyclist out in you.
As well as being twice the size of the previous fitness suite, the newly refurbished gym features TechnoGym's latest range of cardio, resistance and free weight equipment.
The cardio equipment features TechnoGym Live a new digital user interface that is designed to inspire people to embrace exercise and help achieve results in a fun and motivating way. And to top it all off the resistance machines have MyWellness built in allowing you to scan the equipment and get personalised workouts, tips and more straight to your phone.
The new café area provides a delicious menu of Taste for Life's much loved coffee blend as well as hot and cold snacks and lunches. Popular with swimming lesson families and gym-goers is the new and exclusive to Nantwich freshly made smoothies and juices. These include tropical and berry mixes as well as pre and post workout recipes.
The café is situated at the entrance of the facility with further seating and social areas overlooking Nantwich's indoor swimming pools and ground floor fitness studio.
The café is open 9am-3pm on Saturdays and 11am-6pm on weekdays with opening hours increasing with demand.
A second phase to the project includes a new changing and locker provision and access to the Outdoor Pool, to enhance the customer experience for members and tourists alike.
For more information more visit: https://everybody.org.uk/locations/nantwich/ or call 01270 685590
Ends.
Notes to Editors
Pictured: Dame Sarah Storey with Alyson Seddon & Ryan Pearce from EQUANS, Cllr Andrew Martin, Nantwich Town Mayor Cllr Stuart Bostock, Cllr Arthur Moran, Deputy Mayor Cllr David Marren, Everybody Chairman Andrew Kolker, Executive Director Thomas Barton, Nantwich General Manager Peter Wilson.
Everybody Sport & Recreation – Everybody is a registered charity and company limited by guarantee. As a Health and Wellbeing Charity, Everybody Sport and Recreation aims to provide 'leisure for life' by changing lives through healthy recreation. The charity operates 16 leisure facilities across the Cheshire East region as well as a range of Health, Leisure Development and Outreach programmes and the new Everybody Academy, providing local training and career opportunities. For more information please visit: www.everybody.org.uk or follow on Twitter @ebleisure.
Media Contact
Name: Jade Griffin, Senior Marketing Manager
Organisation: Everybody Sport and Recreation
Email: [email protected]