For Immediate Release: 1st May 2022
Everybody Renames To Make Charity Fit For The Future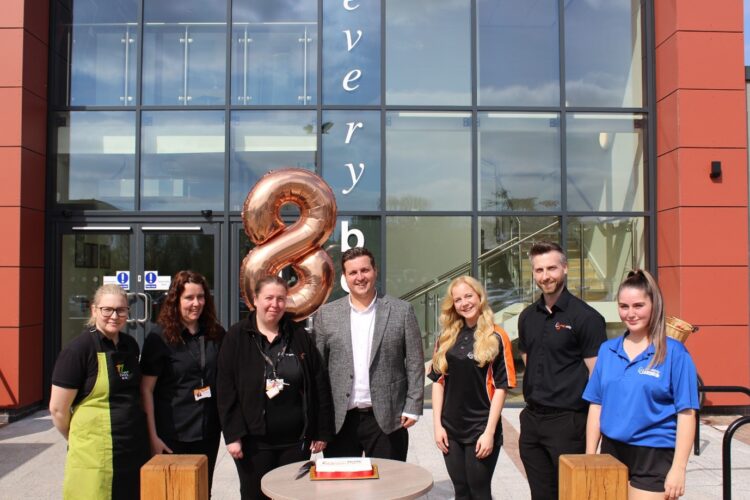 Photo caption: CEO Thomas Barton (centre) and staff at Nantwich Leisure Centre celebrate the announcement of the new charity name and 8th Anniversary.
Pictured left-right: Hayley Dawson (Cafe Assistant), Tammy Parker (Receptionist), Debbie Satchwell (Leisure Assistant), Thomas Barton (CEO), Phoebe Cooke (Health and Fitness advisor), Andrew Nixon (Duty Manager), Zoe Wild (Swimming Teacher)
Everybody announces new charity name, 'Everybody Health and Leisure' effective from the 1st of May. This date is significant as it is the 8th anniversary of the charity and what better time to announce this exciting new step in the continued development of the charity.
This news comes weeks after Everybody appointed their new CEO, Thomas Barton in March, who is driven on delivering a new business plan and vision for the future of Everybody.
Thomas Barton CEO shared,

" As we mark our 8th anniversary since the creation of our trust, we're taking this opportunity to become 'Everybody Health and Leisure'. This reflects the way our services have evolved in recent years but also supports our many plans to make Everybody, 'fit for the future'.

On our 8th anniversary our team are making eight commitments to the local communities, these range from creating many more employment opportunities to creating opportunities for thousands more children to learn to swim and of course continuing to invest in our facilities particularly in Crewe and the brand new Congleton Leisure Centre."
Watch the video announcing the exciting new name of the charity and depicting all the stages of life they are helping people to live well and for longer…
More than just a name…
'Everybody Health and Leisure' signifies how the charity has grown to support a wide variety of people in Cheshire East.
Everybody Health and Leisure, offers a wide range of services to members and customers in Cheshire East. These include health and fitness memberships for gym, swim and classes at 16 locations, a range of sporting activities for people of all ages, learn to swim scheme, targeted health programmes, disability and inclusion sessions and so much more!
The charity also works in partnership with local partners where highly qualified, specialist teams support the delivery of a range of essential health and wellbeing services, for people of all ages and abilities.
As it is the charities 8th Birthday, they have shared 8 commitments that the charity will be making to the local community in 2022-23
Work with parents and schools to help the 5000 children in Cheshire East currently waiting to learn to swim.

Create local jobs for local people with 100 to be recruited into leisure, catering and hospitality, business support and apprenticeship roles.

Reopen a brand-new Congleton Leisure Centre welcoming over 2000 health and fitness members and a wide variety of activities for all residents.

Realise the investment of over £2m to improve facilities at the Crewe Lifestyle Centre and Cumberland Arena.

Train over 6000 young people a vital life skill of riding a bike and improve confidence in 5000 local employees to actively travel to work.

Deliver targeted health schemes such as exercise referral, long covid and specialist rehabilitation to over 1000 people in Cheshire East.

Celebrate with annual awards ceremonies for local talented junior and adult athletes, individuals and organisations making a difference in sport and healthy recreation

Investing in and growing our volunteer programme, to take our total volunteer hours to 50,000 by end 2023
Everybody Health and Leisure Chairman, Andrew Kolker shares,

"Our shared vision with Cheshire East Council to 'Help people to live well and for longer' together with our new charity name allows us to continue making a difference to our local communities."
Find out more about Everybody Health and Leisure by visiting www.everybody.org.uk and following their social media pages here.

Ends.
Notes to Editor
Everybody Health and Leisure is a registered charity which aims to provide 'leisure for life' by improving the health and wellbeing of local communities. The charity operates 16 leisure facilities including 9 swimming pools and 7 Taste for Life cafes across the Cheshire East region, and delivers a range of targeted health, sports and disability and inclusion programmes. For more information please visit: www.everybody.org.uk or follow on Twitter @ebleisure.
Media Contact
Name: Matt Shannon
Organisation: Everybody Health and Leisure
Email: [email protected]