OWN YOUR HEALTH AND FITNESS JOURNEY
Work with our qualified and dedicated health and fitness team and begin a journey to achieve your fitness goals in just 8 weeks. You will receive a bespoke, one on one tailored fitness programme designed by an Everybody qualified personal trainer, who will effectively and efficiently deliver your fitness goals by motivating and guiding you, through your programme.
Book a free consultation with one of our personal trainers to find out exactly how much you can achieve, set aspirational goals and kickstart your path to an even better version of yourself.

What are the benefits of training with an Everybody PT?
There are lots of benefits of training with a Personal Trainer, these include:
Teaching you form and technique: Whether you're new to a gym setting, new to lifting weights or even consider yourself a seasoned pro, getting your technique right is vital. A personal trainer will talk you through how to perform exercises correctly and safely.
Guidance and support: When training alone, it's tricky to know if you're getting your form, posture, range of movement or technique right. Your personal trainer will guide you objectively to make sure you're getting each move right.
Heaps of knowledge and experience: Most of us will have watched training tips and techniques on social media and the web, eager to push our fitness further. Your personal trainer will be your fitness encyclopaedia, packed with knowledge and experience. PTs must stay up to date with industry best practice, including training methods and trends, meaning the time you used to spend researching can be refocused on to building and achieving.
Push you and your limits: Personal trainers know what it takes to get you to your goal. So as well as being supportive and passionate, your PT will motivate and challenge you to push yourself to new levels.
Hold you accountable: Committing to a personal trainer demonstrates a true intent to get fitter and healthier but sometimes the hardest battle is getting to the gym in the first place. By backing yourself with a PT you'll have that supportive voice holding you accountable in achieving your goals.
Designing a bespoke training programme: Your personal goals will be holy grail of any training programme. Your personal trainer will talk to you about where you are now, where you want to be and craft a bespoke programme to make sure you can get there effectively and efficiently. And if your goals change, then your programme can be edited and structured to suit your new objectives.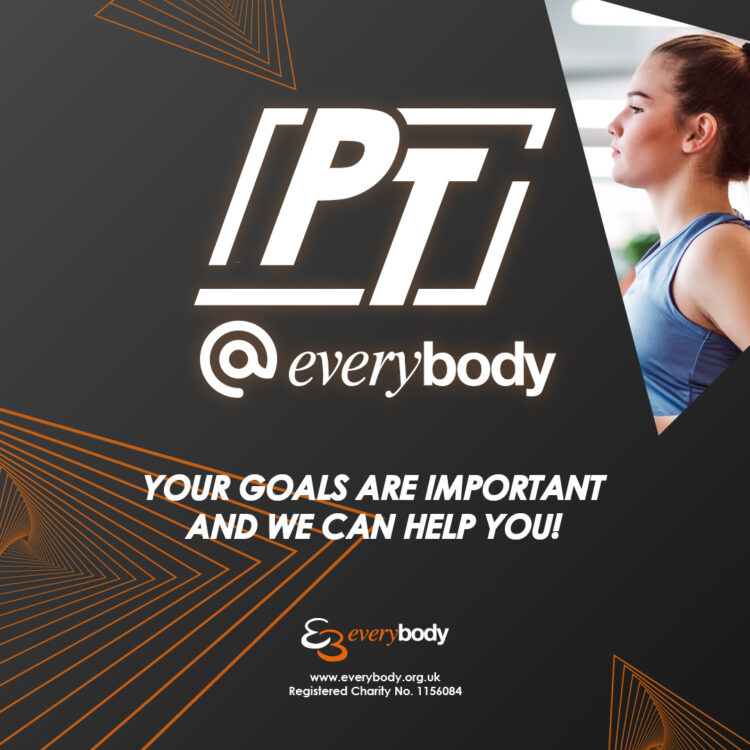 To book your PT sessions or for more information, fill in the form here 0r speak to us on your next visit.
Everybody personal trainers specialise in the following areas:
Women's health – prenatal, postnatal, peri menopause, menopause and post menopause, training for your cycle

Men's health

Weight loss and fat loss

Endurance training

Hypertrophy

Building lean muscle

Martial arts and self defence training

Flexibility training

Bulk/shred and maintenance phases

Dedication/motivation and mindset
And much more!