Do you love Tennis? New offer coming soon!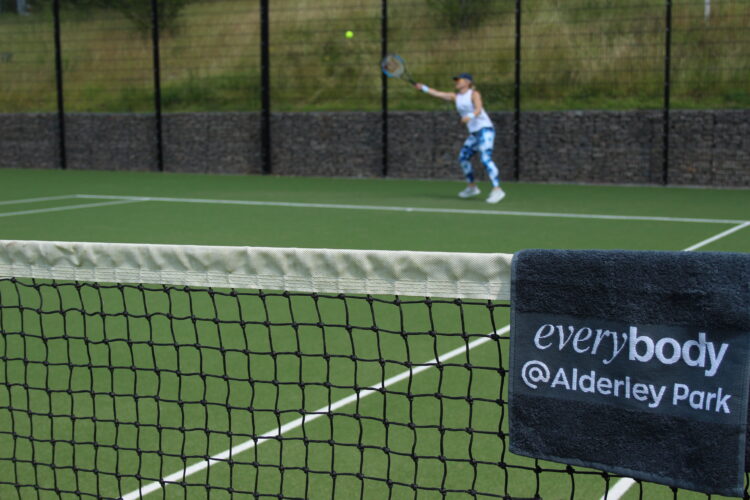 (Photo Caption: Tennis sessions at Everybody @ Alderley Park)
Everybody Heath and Leisure are delighted to announce their new tennis sessions which will be coming in to play in August at their state of the art facility – Everybody @ Alderley Park.
The offer coming to the amazing facility includes something for everybody, from Family Cardio Tennis, Social Tennis, Cardio Tennis Class, Junior Tennis and their Summer Tennis Camp.
Jo Patterson, Everybody's Tennis Coach at Everybody @ Alderley Park shared her thoughts on the new tennis sessions being introduced and what she thinks tennis can do for people both mentally and physically.
"I am passionate about sport both in its mental and physical benefits especially in children. I believe that sport benefits and develops coordination skills in a fun and interactive way. Tennis is a fantastic game for all the family and I am excited to be coaching at Alderley Park and look forward to seeing you all on court!"
Family Cardio Tennis – Get the whole family in on the cardio fun, all games and tennis activities age-appropriate allowing for the family to come together and hit some balls whilst getting a really good work out.
Social Tennis – Come along and join in with a sociable tennis session. Meet new people and play matches with those of a similar ability.
Cardio Tennis – A fun, sociable group fitness class set on a tennis court set to high energy music and is for anyone at any level looking for a fun way to burn calories and interact with others on the tennis courts.
Junior Tennis – The junior coaching will be held on Sunday mornings, separated into age groups followed by an hour of supervised match play and an opportunity to take part in the Alderley Park junior tennis challenger ladder.
Summer Tennis Camp – Keep the children active during the summer holidays, this will include different tennis games, matches, coaching and fun activities.
Jo Patterson commented on her background in Tennis including all the different tennis coaching she has undertaken to date.
"As a junior I played county and regional tennis and I was privileged to be trained by Internationally renowned tennis coach David Sammel at match point on his junior training squad.
I qualified as an LTA level 3 Development coach in 1999 and I coached abroad until 2003. I moved back to the UK in 2003 and worked alongside Head Coach at Heaton Mersey Tennis Club and whilst I enjoyed coaching, I took a break from to concentrated on being a mum.
When I could I continued to focus on free-lance tennis coaching providing schools and clubs with tennis coaching programmes. I worked in and around Chester providing PPA cover for primary schools and after school sports clubs."
Get together with your friends this summer for a game of tennis on the 3 large tennis courts available to hire at Everybody @ Alderley Park.
More information on the brand new Tennis offer will be released very soon on their website https://everybody.org.uk/locations/everybody-alderley-park/ and on their Facebook page @EverybodyAlderleyPark, be sure to check out their channels for more information.
Ends.
Notes to Editor
Everybody Health and Leisure is a registered charity which aims to provide 'leisure for life' by improving the health and wellbeing of local communities. The charity operates 16 leisure facilities including 9 swimming pools and 7 Taste for Life cafes across the Cheshire East region, and delivers a range of targeted health, sports and disability and inclusion programmes. For more information please visit: www.everybody.org.uk or follow on Twitter @ebleisure.
Media Contact

Name: Matt Shannon
Organisation: Everybody Health and Leisure
Phone: 07816 606758