Free blood pressure checks for Know Your Numbers! Week 2022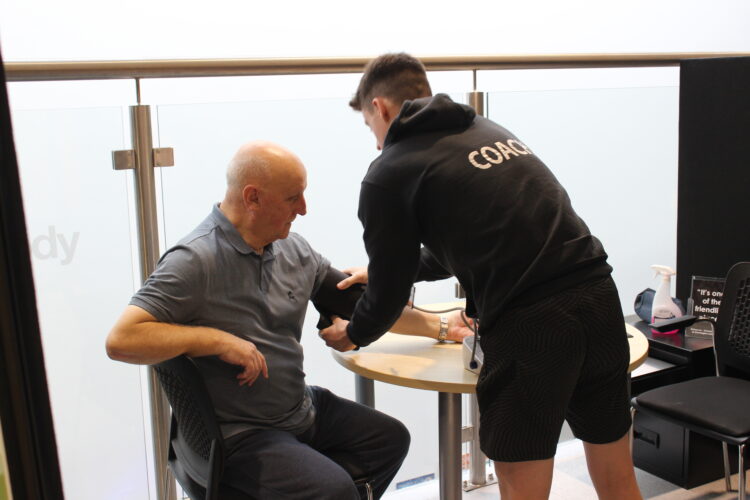 We are providing free blood pressure checks as part of Blood Pressure UK's Campaign 'Know Your Numbers! Week' which takes place 5th– 11th September 2022.
Our Health Referral Lead here at Everybody Health and Leisure, Gavin McKeith shares:
"High Blood Pressure, also known as Hypertension is a very common condition, with 1 in 3 people in the UK suffering from it. Blood pressure is looking at the amount of blood your heart pumps around your body and the amount of resistance to blood flow in your arteries. One of the issues related to the conditions is it can often not present any symptoms!
However, having high blood pressure can often lead to other health issues if not treated, including Type 2 Diabetes, heart disease, kidney disease, strokes amongst many others. Nevertheless lifestyle changes can be implemented to help prevent and lower your blood pressure, including increased exercise and physical activity levels, reduction in weight, reduction in salt intake and a healthy balanced diet."
As well as free blood pressure checks, we will be providing information on why blood pressure is important to check, what the numbers mean and how exercise can help reduce and maintain blood pressure.
No need to book, just turn up for a 10 minute appointment! These checks will be available at the following locations during the campaign:
The opportunity to check your own blood pressure will be available on a self-screening blood pressure machine at Holmes Chapel Community Centre and the Wellpoint Kiosk at Crewe Lifestyle Centre during the 5th-11th September so drop in anytime the centre is open to check your own blood pressure.
At Holmes Chapel Community Centre, this machine will allow customers to take their own blood pressure readings, the machine has a built-in printer, which will display the date, time, systolic, diastolic and pulse rate for each reading to take away with you. The cuff mechanism provides automatic cuff size adjustment, ensuring the arm is positioned correctly for an accurate measurement. There will be an information leaflet available that will provide all the necessary information regarding your blood pressure reading.
At Crewe Lifestyle Centre, the Wellpoint Kiosk is a state-of-the-art touchscreen, self-service health and wellbeing kiosk. It provides a mini health check, measuring amongst other things blood pressure, weight and body fat percentage. It can also provide an estimate of your risk of developing heart disease (including heart attack and stroke) in the next 10 years. Your results and personalised advice are produced instantly on a printout 'receipt' or sent to you by email. The kiosk will be at Crewe Lifestyle Centre until the end of September.
To find out more, contact the Everybody Healthy Team on: [email protected] or call: 01270 685589.
Check out our video from our Health Referral Lead Gavin McKeith who shares how to use the self-screening blood pressure machine at Holmes Chapel Community Centre: