Media Release
Local Leisure Centre is 74 year old Gillian's 'Security Blanket'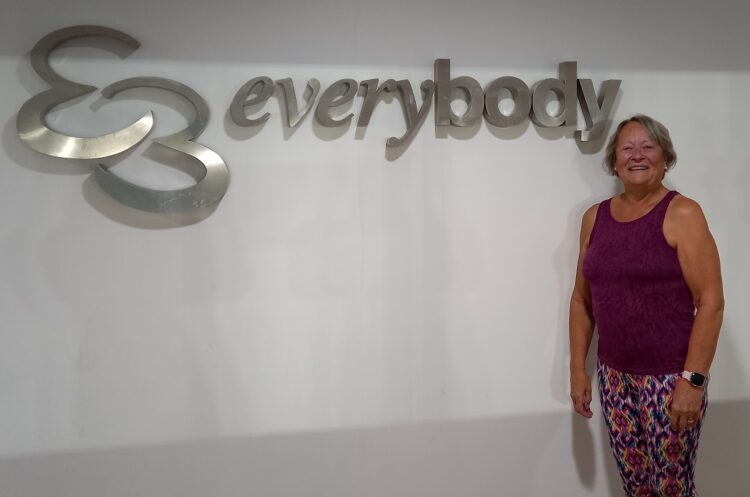 Photo Caption: Gillian Pullen at Alsager Leisure Centre
Gillian Pullen from Alsager has been a member at Alsager Leisure Centre for around 20 years. Always into her fitness, Gillian joined wanting extra support from the gym which helped her to do her marathon in 2002 and has been using Alsager Leisure Centre ever since.
As part of National Fitness Day, which takes place on Wednesday 21st September, the campaign is around how fitness unites us. Everybody Health and Leisure asked members to share what they will be doing during the day and how fitness has connected members with other people. Gillian responded to say:
"I will be doing my 3 classes with instructor Louise Fox. My gym buddies and Louise have supported me through my breast cancer diagnosis and treatment. They visited and sent messages during my treatment which encouraged me to return ASAP. I have made many friends and love all the classes."
Members were so supportive, Gillian received flowers and gifts from her friends at the leisure centre and a card which said, "from all your gym buddies."
6 weeks after surgery Gillian went back and did aqua aerobics and after that she built it up from there, fitting in extra classes where she can "When I came back they cheered" Gillian shared.
"It is nice when you come up and see regular people, spend the first 10 minutes chatting."
"When you go out in the town afterwards, you see people and you go and have a coffee, so all these people are an extended group of friends, that I wouldn't have made unless I came here.
Especially when you are retired and you can be isolated, you have got to make the effort to do something, so this for me is my sanity, I think. My security blanket."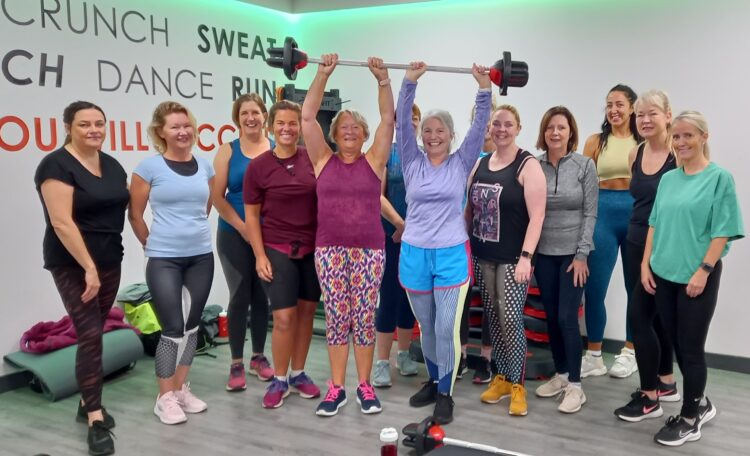 Photo Caption: Gillian Pullen and customers at Alsager Leisure Centre
Gillian has supported many people at Alsager Leisure Centre, from connecting with customers who were very nervous about doing anything, supporting new members to feel welcome and included, encouraging customers to give things a try and supporting a customer with getting set up on the online booking portal.
"Because you meet similar people with similar interests within a group and support each other to get the best out of the activity that you are doing and not take it too seriously.
It's like if you do a Zumba class where she says turn right and we all turn left, we all laugh."
As well as meeting for coffees, she goes on walking holidays with her gym buddies which is an extra bonus Gillian shared.
"It is the companionship as well I think and just to make sure some people may not always have lots of other people and they come here and again that's their friendship group really, so we all have that need to have a friend don't you and support. That's what these places do for you really."
If you would like to find out more about your local Everybody Leisure Centre, visit www.everybody.org.uk with lots of activities for everybody, you are sure to find something you love. Not only do Everybody Health and Leisure provide 'Leisure for Life' but help the community form friendships for life.
Ends.
Notes to Editor
Everybody Health and Leisure is a registered charity which aims to provide 'leisure for life' by improving the health and wellbeing of local communities. The charity operates 16 leisure facilities including 9 swimming pools and 7 Taste for Life cafes across the Cheshire East region, and delivers a range of targeted health, sports and disability and inclusion programmes. For more information please visit: www.everybody.org.uk or follow on Twitter @ebleisure.
Media Contact
Name: Lucy Bourne
Email: [email protected]
Telephone: 07773976464