Media Release
The 2022 Everybody Awards Winners Announcement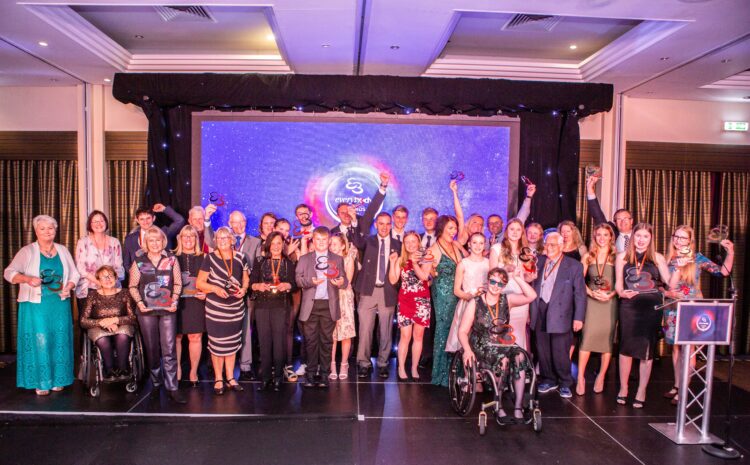 (Nominees and winners come together, as one, at the Everybody Awards 2022)

Everybody Health and Leisure were overwhelmed by the inspirational stories from sporting stars in Cheshire East and couldn't wait to share the below winners from the Everybody Awards 2022, held at Crewe Hall, Cheshire.
Sports Personality of the Year – Sponsored by Applewood Independent
Poppy Maskill – Swimming
Laura Gray – Tri-athlete
Josie Knight – Cycling
Winner: Poppy Maskill
Swimming is one of few sports to have featured in every Olympics and Commonwealth Games. In a high profile year for the sport, Poppy has made a big impact on the international stage. Poppy competes at county and regional level as an AB (able bodied) swimmer and nationally and internationally as a para swimmer.
In May, Poppy was selected to represent Team England in the Commonwealth Games and in June travelled to Madeira for the Para Swimming World Championships. Coming away with an individual Silver Medal, Bronze medal and 6th place in 100m S14 Breaststroke. In the S14 mixed medley relay, Poppy and the team secured gold, meaning Poppy returned to Alsager as a World Champion!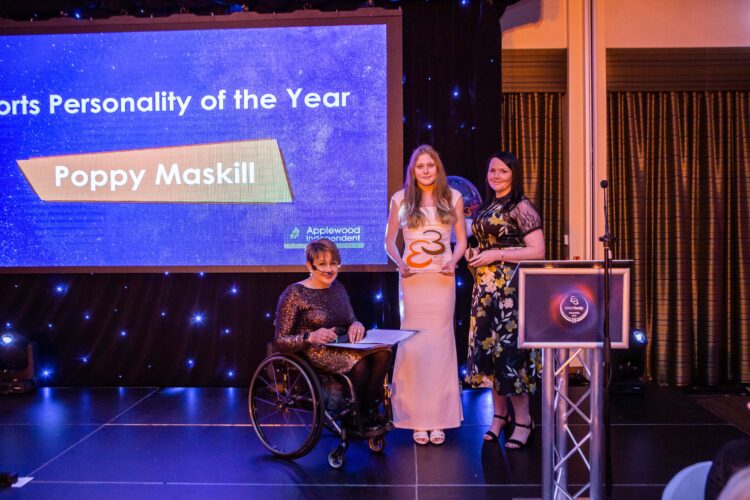 Baroness Tanni Grey-Thompson presenting Poppy Maskill Sports Personality of the Year with Rebecca Wolstenholme from Applewood Independent
Young Sports Achiever – Sponsored by Fitasylum
Isabella Serventi – Nantwich Lifesaving Club
Connor O'Riordan – Football
Safi Kandeh – Netball
Winner: Isabella Serventi
Izzy joined Nantwich Lifesaving Club at the age of 7 after completing Stage 7 of the Everybody Learn to Swim Scheme and wanting to do more than competitive swimming. Izzy started the RLSS UK Rookie Lifeguard programme and continued with the Learn to Swim programme. By the age of 9, Izzy had completed the Rookie programme and came first in the RLSS Liverpool District Challenge Cup. Izzy was desperate to continue with her awards, but you have to be 12 to start the RLSS UK Survive and Save programme. The RLSS UK agreed to allow Izzy to start on the Survive and Save Medallions, as they acknowledged her amazing achievements at such a young age.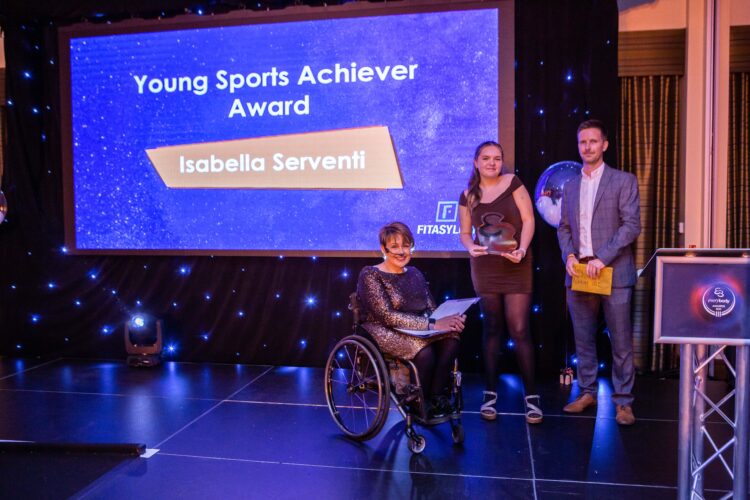 Baroness Tanni Grey-Thompson presenting Isabella Serventi Young Sports Achiever Award with Mike Charlesworth from FLM Training
Disabled Sports Achiever – Sponsored by Cornerstone
Rachael Partington – Para swimmer
Lily Maskill – Gymnastics
Winner: Rachael Partington
Rachael is a competitive para swimmer and competes at regional and national level. Her Head Coach shares, "Rachael has genuine grit and determination, is not scared to ask for more challenging sessions and has settled into a new club at a time when there is a lot of upheaval for her out of the swimming pool". At the Swansea national para swimming championships Rachael was reclassified and swam in 4 events. She improved on all her times from the previous summer and made 1 multiclassification final. In February Rachael attended the World Para Series meet in Aberdeen, once again she improved on all her times and qualified for 2 junior finals.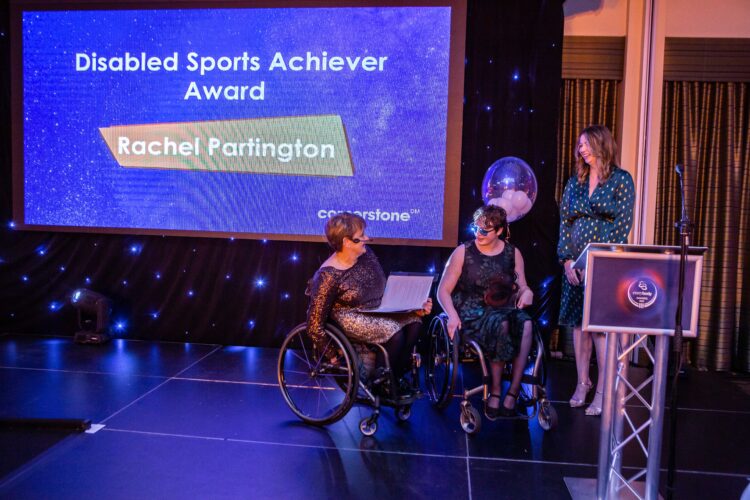 Baroness Tanni Grey-Thompson presenting Rachael Partington Disabled Sports Achiever with Jess Gibbs from Cornerstone

Coach of the Year – Sponsored by Alderley Park
Chris Ogden – England Squash
Philip Balcombe – Alsager Swimming Club
Paul McIntyre – Nantwich Triathlon Club
Pauline Busby – Wilmslow Scorpions
Winner: Chris Ogden
Chris' achievements have been noticed by key partners such as England Squash and have led him to becoming the nominated Cheshire County and England Aspire squash coach. Chris is affiliated to Bollington Leisure Centre, where the squash scene has never been so buoyant. He has grown the club to a 1st Division club with 5 teams playing NWC and 2 NWC ladies' teams. A huge junior program, with 6 juniors all playing regularly for NWCSL.
Clubs such as Macclesfield and Prestbury Squash clubs are experiencing reduced memberships and their future existences are compromised. Whilst Chris plays for Bollington Squash Club and started his coaching career at Bollington Squash Club, Chris recognised the need to stimulate interest in the sport in other areas. Chris has also done this through engaging with local schools which have also been able to provide students with squash coaching through Chris.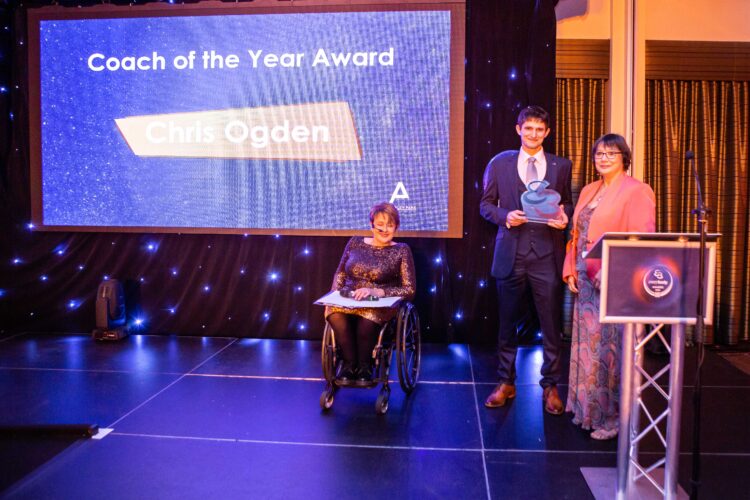 Baroness Tanni Grey-Thompson presenting Chris Ogden Coach of the Year with Everybody Trustee Kimiyo Rickett
Customer Hero – Sponsored by XN Leisure
Terry Robson
Bob Hope
Alyson Walker
Gillian Pullen
Winner: Alyson Walker
After Alyson broke her leg, she developed life threatening complications. She spent months bedridden, weeks in intensive care, then in a wheelchair unable to support her own weight. Determined to get a good quality of life she started going to Macclesfield Leisure Centre and using the swimming pool. She would complete one hour, five days a week, until she could walk on crutches. Alyson then moved onto using a stick, progressing through rehab and then onto the Everybody class 'Move It or Lose It'. Now she is taking part in Zumba and aerobic, which she finds sometimes out of step, but she's moving which is a huge achievement to where she was months ago.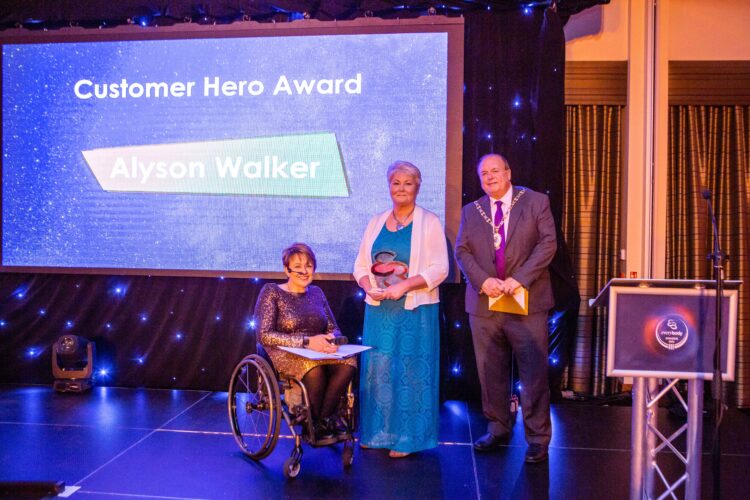 Baroness Tanni Grey-Thompson presenting Alyson Walker Customer Hero Award with The Worshipful the Mayor of the Borough of Cheshire East
Health and Wellbeing – Sponsored by Aceso Homecare
Zen Occupational Health Ltd
Crewe Central Table Tennis club
The Crewe Community Hub
Motherwell Cheshire CIO
Winner: Crewe Central Table Tennis club
Crewe Central Table Tennis Club are a not for profit organisation with many of its volunteers helping people of all ages realise their table tennis talents, improve their fitness and resilience, whilst also providing a space for socialising and nurturing relationships. New plans are about improving their engagement and offering the community new sessions to include dementia friendly sessions as well as different sessions for the over 55 year olds. Crewe Central have just succeeded in being the first Nantwich organisation to attract funding from the Cheshire East Crowd Fund to enable them to convert a cafe area at Elim Church Regents Park into a new table tennis facility, which will be the starting point of becoming a more inclusive Table Tennis club.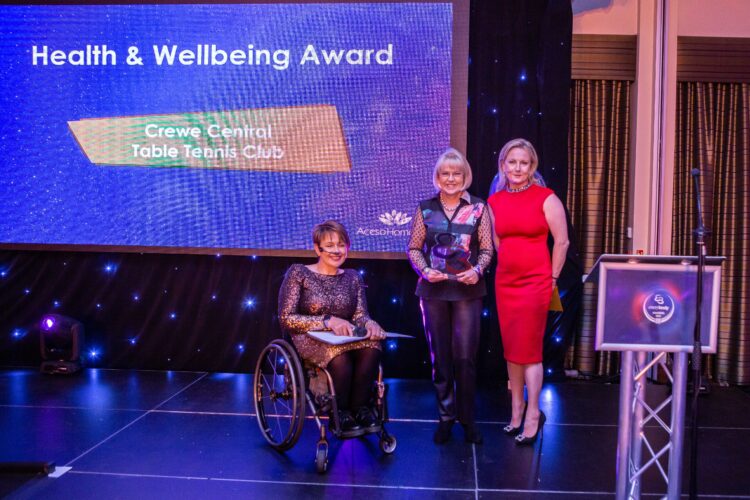 Baroness Tanni Grey-Thompson presenting Crewe Central Table Tennis club Health and Wellbeing Award with Amanda Best from Aceso Homecare
Club of the Year – Sponsored by Les Mills
Nantwich Lifesaving Club
Paul McIntyre Nantwich Triathlon Club
Alsager Swimming Club
Bosley Tug of War Club
Winner: Nantwich Lifesaving Club
Affiliated to the Royal Lifesaving Society, Nantwich Lifesaving Club has been running for nearly 50 years! They have over 60 members, ranging from 8 years old to 80! The club teaches water safety and rescue skills to save lives, such as emergency first aid and CPR. The members work towards completing the RLSS UK Rookie Lifeguard Awards and the RLSS UK Survive and Save Awards. They also compete in club, local, regional and national competitions. All of the club instructors are volunteers, giving up their Saturday mornings because they absolutely love what they do.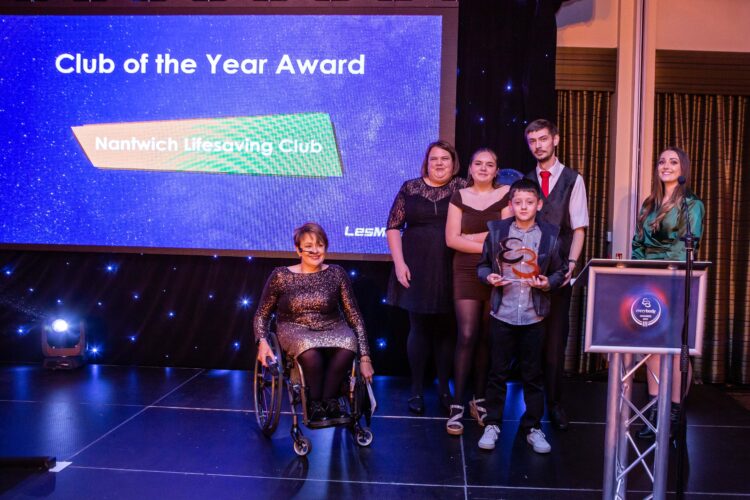 Baroness Tanni Grey-Thompson presenting Nantwich Lifesaving Club, Club of the Year with Catherine McDermott from Les Mills
Volunteer of the year – Sponsored by Bates Wells
Liz Clark – Volunteer at Sandbach United FC
Greg Stuart – Football
Ray Sheppard – Walking Football
Mia Teburi – Sports Literacy Group
Winner: Liz Clark
Liz works tirelessly to help provide sporting opportunities for girls who are just starting out on their football journey as well as children with specific learning and physical disabilities. Without Liz's support, guidance and constant positive attitude, Sandbach United would not have been awarded with Grassroots Football Club of the year (2019-2020). Liz has supported a visually impaired child to remain in mainstream football at the club by arranging for one of the under 16 players to act as 1:1 support. She also arranges multiple fundraising events to support the club as a whole and the individual teams.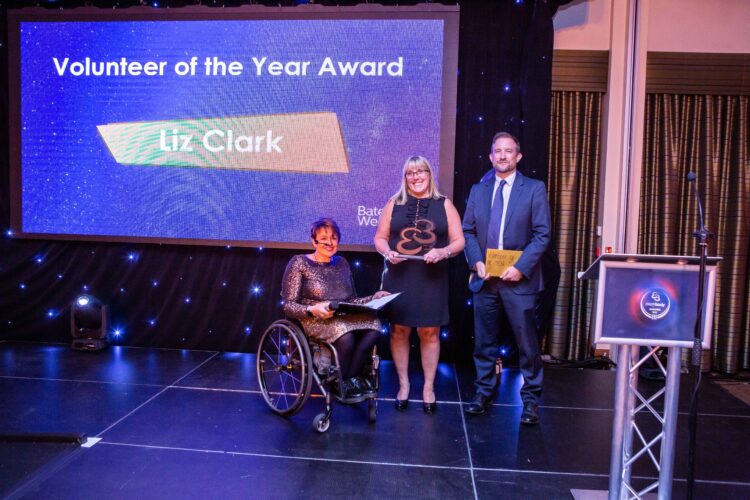 Baroness Tanni Grey-Thompson presenting Liz Clark Volunteer of the year with sponsor Bates Wells
Chairman's Award- Sponsored by TechnoGym
Winner: Mia Teburi
Mia is a student in year 10 at Macclesfield Academy. She has given hundreds of hours to volunteering with local primary schools and younger years at school. She currently runs a morning sports literacy group with pupils in year 7 for pupils that looking to improve their reading. Mia also runs numerous sports events such as primary sports days, summer camps, football competition and referees the primary netball tournaments. She also recognises the importance of mental health and is a mental health leader, organising numerous events for mental health through assemblies, morning walks, quizzes, drop in sessions with pupils and even organised an easter egg hunt in aid of supporting the mental health of staff.

Baroness Tanni Grey-Thompson presenting Mia Teburi Chairman's Award- with Andrew Kolker Everybody Chairman and Chris Lonsdale from TechnoGym
Lifetime Achievement – Sponsored by Hibbert's Solicitors
Winner: Bill Consterdine
Bill has been attending Shavington Leisure Centre since it opened and is now at the grand age of 79. Bill has played a key figure in England athletics for the past 40 years. Working in the role as head starting official, he has attended country wide events and has started events ranging from grass roots athletics for young athletes from 6 and above all the way up to international masters' levels. He is one of the most well-respected starting officials in the country and continues to carry out his duties to this very day. Bill has sacrificed 1000's of hours over the years working in this voluntary role purely for his love of athletics which is still as strong today as it was all these years ago.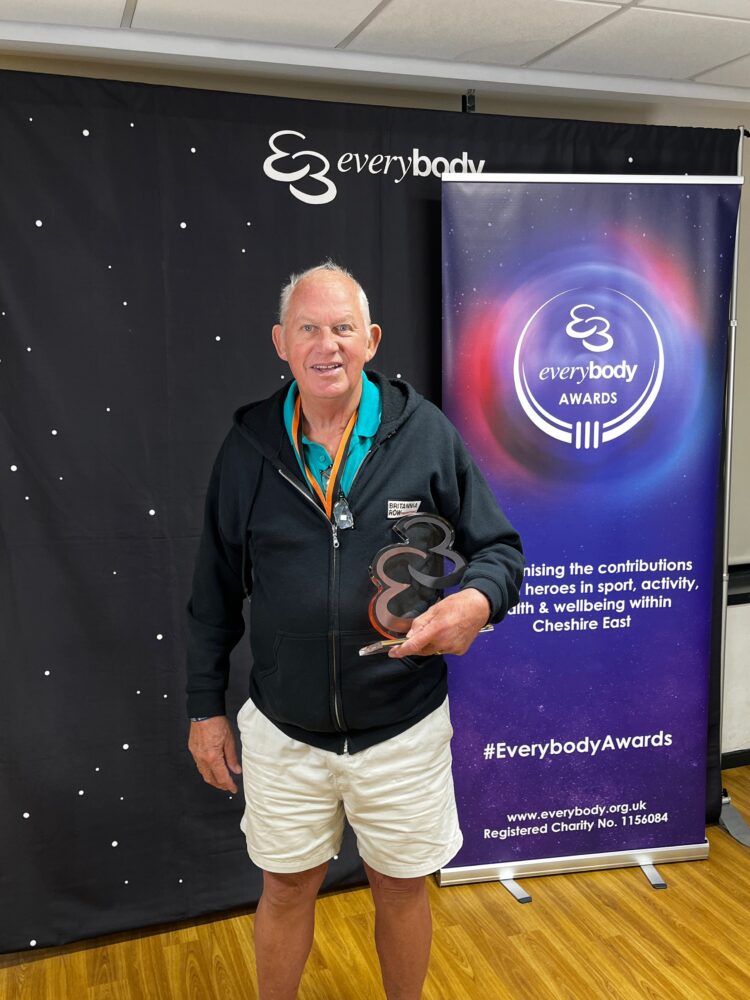 Bill Consterdine Lifetime Achievement Award Sponsored by Hibbert's Solicitors
If you would like to see Everybody Health and Leisure's pictures from the 2022 Awards visit their Facebook page 
Ends.
Notes to Editor
Everybody Health and Leisure is a registered charity which aims to provide 'leisure for life' by improving the health and wellbeing of local communities. The charity operates 16 leisure facilities including 9 swimming pools and 7 Taste for Life cafes across the Cheshire East region, and delivers a range of targeted health, sports and disability and inclusion programmes. For more information please visit: www.everybody.org.uk or follow on Twitter @ebleisure.
Media Contact

Name: Matt Shannon
Email: [email protected]
Phone: 07816 606758