Media Release
Women & Girls Squash Festival held at Macclesfield Leisure Centre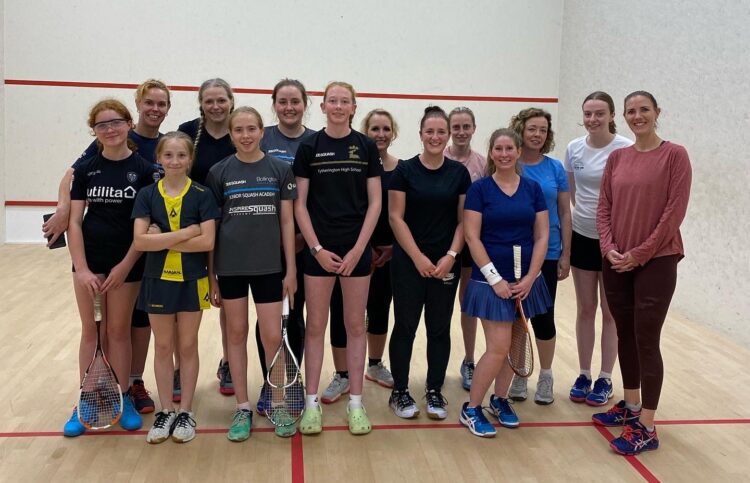 (Tytherington High School and St Albans Primary School , took part in the Women & Girls Squash Festival, hosted at Macclesfield Leisure Centre)
Everybody Health and Leisure worked in partnership with Inspire Squash and Laura Massaro MBE to take part in 'Women's Squash Week' during September. This was a campaign that aimed to celebrate and raise the profile of female squash, with this year being all about breaking down the barriers to create a fun, safe, and welcoming environment, where women and girls can thrive in the sport.
Inspire Squash ran a session for 13 Tytherington High School pupils as well as a session for 26 girls from St Albans Primary School, both schools located in Macclesfield. The Women & Girls Squash Festival aimed to inspire the school kids, giving them a memory of a lifetime, whether they started playing regularly or revisited it in the future. One of the school participants shared, " This has been the best afternoon of my life!". This was ultimately the goal of Inspire Squash and Everybody.
Charlotte Webb, Year 5 Class Teacher, at St Alban's Catholic Primary School shared:
"For most of our girls, it was their first experience of squash, and it is safe to say that they came away from the session with new-found interest in the sport. Most of the children told me that they would love to have the opportunity to learn more and to play again so we are hoping to pursue this. The coaching session was fun and informative, and all the girls were able to get involved and learn the basics of squash.
The most powerful message that the girls took away with them was how Laura picked herself up and recovered from losses in her career and how this would drive her to keep working hard to achieve her goals; a fantastic skill the girls can apply in all areas of their lives."
Laura Massaro MBE is a retired professional squash player, who shared:
"I loved the day for women's squash week at Macclesfield Leisure Centre. It was fantastic to see so many girls and women down playing squash or being introduced to the game for the first time. Credit to all those involved for insuring the current and next generation. More to come I'm sure."
Chris Ogden, Founder and Head Squash Coach, at Inspire Squash commented:
"It was fantastic to see so many women & girls on court and enjoying Squash! It is vital that women & girls have the opportunity to play, learn and love the game, and I'm happy that we could host such an amazing event, get schools involved and see so many happy faces on Court! Hopefully we can inspire both young and old, which is ultimately my goal!"
Visit here to find out more about Macclesfield Leisure Centres facilities including the squash courts, https://everybody.org.uk/locations/macclesfield/play-sport/
Ends.
Notes to Editor
Everybody Health and Leisure are a registered charity which aims to provide 'leisure for life' by improving the health and wellbeing of local communities. The charity operates 16 leisure facilities including 9 swimming pools and 7 Taste for Life cafes across the Cheshire East region, and delivers a range of targeted health, sports and disability and inclusion programmes. For more information please visit: www.everybody.org.uk or follow on Twitter @ebleisure.
Media Contact

Name: Matt Shannon
Email: [email protected]
Phone: 07816 606758