Media Release 
Leisure Centre Aquafit Gold Instructor Turns 94 Years of Age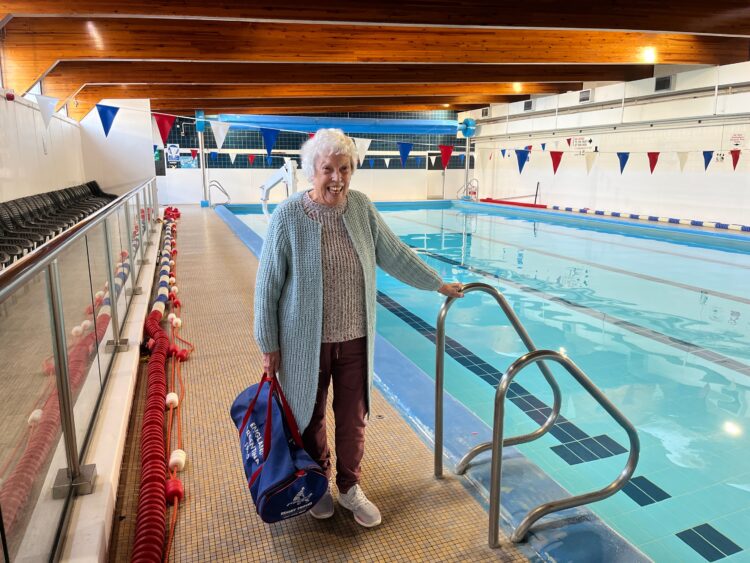 (Doreen Harper at Poynton Leisure Centre before instructing her Aquafit Gold Class)
Doreen Harper from Poynton has been teaching swimming activities at Poynton Leisure Centre since she was in her 40's. Discovering her passion for aquafit, Doreen was on holiday in America visiting a time share with friends and joined the class to see what it was like, she got talking to the instructors who gave her the idea to teach an aquafit class back home.
Doreen took the idea back to Everybody Health and Leisure, asked the Poynton general manager during the time and has been teaching the popular Aquafit Gold class ever since. Doreen shared:
"After the manager said yes to the new class, it took off. The ladies love the classes, the golden girls we call them, but I try and keep them in line. We have fun whilst keeping active which is the main thing."
Regular members have made the Aquafit Gold class what it is today, fun, active and always led with good spirit. Everybody Health and Leisure asked Doreen what she and the ladies gain outside of the classes, she responded:
"We go out for afternoon tea and meet for coffee which brings everyone together, as various members have lost their partners, we don't want them to become lonely. We buy them flowers and gather a little collection together."
"It's important that you keep moving, we do bends in the water, reaching up, to the side, all that sort of jazz. The classes are meant to be 45 minutes but most of the time they end up being 1 hour, we lose track of time sometimes, I guess we're enjoying ourselves."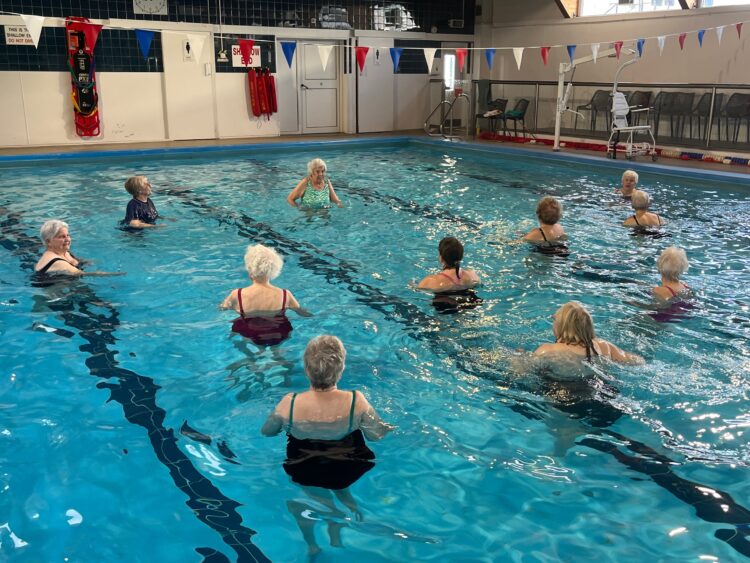 (Doreen Harper with Aquafit Gold customers at Poynton Leisure Centre)
Doreen has supported many people at Poynton Leisure Centre, from teaching kids how to swim, supporting new customers who weren't sure about the Aquafit Gold class, making them feel welcome and encouraging customers to give things a try without the need to feel any pressure.
Doreen continued, "We have re-occurring customers who join in with the class, we do get new people join us, some come along and become part of the gold movement if you like and some people want a bit more of an energetic class."
As well as instructing her regular customers, she wants others to feel like they can turn up and try the class without feeling nervous or feeling like they have to take it seriously, Doreen shared.
"To someone who is thinking about doing the class or have heard of it, we say come and give it a try and if you don't like it, you can go off and have a swim."
If you would like to find out more about your local Everybody Leisure Centre, visit www.everybody.org.uk with lots of activities for everybody, you are sure to find something you enjoy.
Ends.
Notes to Editor
Everybody Health and Leisure are a registered charity which aims to provide 'leisure for life' by improving the health and wellbeing of local communities. The charity operates 16 leisure facilities including 9 swimming pools and 7 Taste for Life cafes across the Cheshire East region, and delivers a range of targeted health, sports and disability and inclusion programmes. For more information please visit: www.everybody.org.uk or follow on Twitter @ebleisure.
Media Contact
Name: Matt Shannon
Email: [email protected]

Phone: 07816 606758