21 August 2023 – Release via Cheshire East Council here
Plans approved to revamp Crewe's Cumberland Arena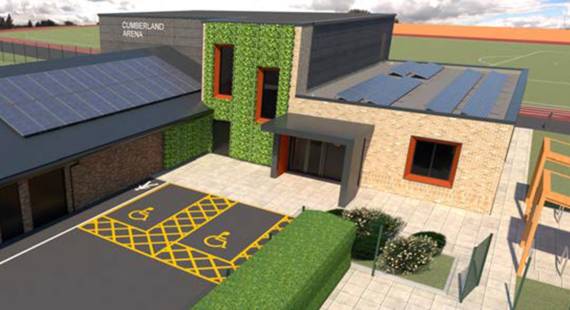 Plans to enhance the leisure, training, and spectator facilities on offer at South Cheshire's premier athletics venue have been approved.
Led by Cheshire East Council and Everybody Health and Leisure – the borough's leisure trust – the scheme to extend and adapt the Cumberland Arena at Thomas Street, Crewe is one of nine projects being supported by the government's Towns Fund and Crewe's allocation of up to £22.9m of funding.
Part of the existing building at the arena will be demolished and a new two-storey extension will be built to provide a reception area, three new multi-functional studio spaces and better facilities for spectators, including covered seating.
A new accessible changing area, extra car parking spaces, a new storage compound, and electric vehicle charging points will also be provided, and access to the site for pedestrians and cyclists will be improved – with a new pedestrian entrance and bike shelters included in the works.
The new building has been designed to support the council's ambition to be carbon neutral as an organisation by 2025 and includes LED lighting and solar panels and will be heated via air source heat pumps.
There will also be 'living walls' and a 'rain garden', which will support sustainable drainage within the site.
Works on the project are currently expected to begin by the end of the year.
Councillor Judy Snowball, vice chair of Cheshire East Council's environment and communities committee, said: "The Cumberland Arena already boasts excellent leisure and training facilities, not least its athletics track and A-grade grass football pitch, but this scheme will further cement is as South Cheshire's premier athletics venue for the benefit of both the local community and the wider area.
"The new studio spaces will be fantastic resources and complement the studio activities already available at the nearby Lifestyle Centre – allowing more health and wellbeing related activities to be delivered – and I am sure the greatly enhanced spectator facilities, with covered seating, will be welcomed by those viewing events."
Tom Barton, chief executive of Everybody Health & Leisure, said: "This project demonstrates our commitment to delivering enhanced health and wellbeing opportunities for the residents of Crewe and compliments the recent gym refurbishment at the Lifestyle Centre.
"By making these improvements to the Cumberland Arena we will now be able to operate the venue seven-days a week by providing modern and accessible meeting spaces for our targeted health and wellbeing programmes as well as educational, social and other community groups."
For information about the other eight projects being supported by the Towns Fund in Crewe.