For immediate release
05/9/23
DJ Flourish To Entertain Gym-Goers at Wilmslow's Biggest Free Health & Fitness Event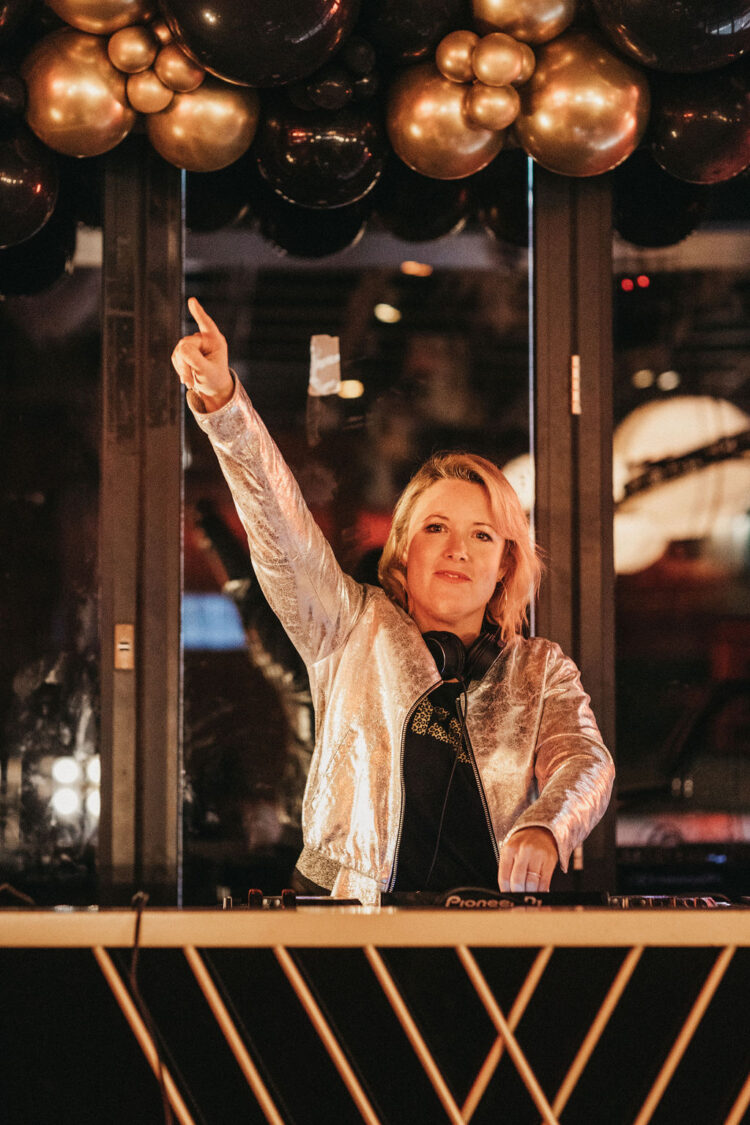 On 16th September, Wilmslow Leisure Centre is opening its doors for a free health and fitness event for the local community. The newly refurbished gym will be open all day and from 11am Caroline Kelf (AKA DJ Flourish) will be filling the gym floor with music from her popular DJ set list.
DJ Flourish brings ALL the feels. JOY, ENERGY & HIGH VIBES are her signature DJ package, all sealed up in a giant bow of FUN! Caroline is a master motivator, her tune choice is full of Bangers & Old Skool classics, and her energy will leave you feeling buzzed for days!
The local Wilmslow Mum found her passion for music back in the 90s. As an avid clubber and dance music fanatic, you would often find her on a club podium and in charge of the tunes at after-parties.
Fast forward 25 years, a career in events, 1 x husband, 1 x child, 1 x cockapoo, and a year of soul-searching, she rekindled her love for music and the dance-floor by becoming a DJ in 2019. With her passion reignited she set about sharing her joy with the world so others can tap into the freedom that music & dance brings.
Over the past 4 years Caroline has injected JOY & MAGIC into female empowerment festivals, wellbeing events including Womanifest and Happy Place Festival, and at her own Sober Self Love Raves.
Caroline is absolutely delighted to be supporting Wilmslow Leisure. Caroline says,
'I recently joined Wilmslow Leisure Centre gym and I absolutely love it! It's great to be able to support my local town and to promote such a brilliant space.'
Alex Challis, General Manager at Wilmslow Leisure Centre commented,
'We can't wait for Caroline to join us at our event, she will certainly be bringing a motivating and uplifting vibe to the gym and will provide the perfect soundtrack to your gym work out on the day!'
The event will include free gym access, group fitness classes, sports activities, swimming, face painter, football darts and more! If you are thinking of joining there will also be exclusive membership offers.
For more information about the Wilmslow health and fitness event, book a tour and to book on to any of the free activities visit: https://everybody.org.uk/wilmslow-leisure-centre-open-day
Ends.
Notes to Editor
Everybody Health and Leisure are a registered charity which aims to provide 'leisure for life' by improving the health and wellbeing of local communities. The charity operates 16 leisure facilities including 9 swimming pools and 7 Taste for Life cafes across the Cheshire East region, and delivers a range of targeted health, sports and disability and inclusion programmes. For more information please visit: www.everybody.org.uk or follow on Twitter @ebleisure.
Media Contact
Name: Jade Elkington, Senior Marketing Manager
Organisation: Everybody Health and Leisure
Email: [email protected]