Christmas gift inspiration
Well can you believe it is the middle of December already, where has this year gone!? With Christmas just around the corner, we have some great stocking filler and present ideas for you to give to your loved ones!
Also, amazing present ideas for you (if you would like to treat yourself to an early Christmas present) OR you could send this link to someone as a hint that you want someone to buy something for you!
Need a stocking filler? We've got you covered!
Oh everyone LOVES some branded merchandise don't they, we love our branded stock and they are the perfect present for your loved ones this Christmas.
Everybody @ Alderley Park branded items: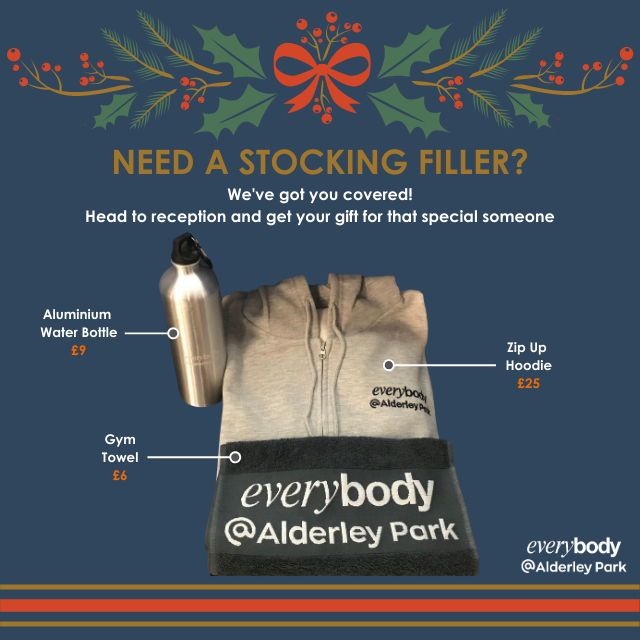 You can also take up our package deal for our Everybody @ Alderley Park merchandise, which includes a towel, holdall and bottle for – £25
Everybody branded items: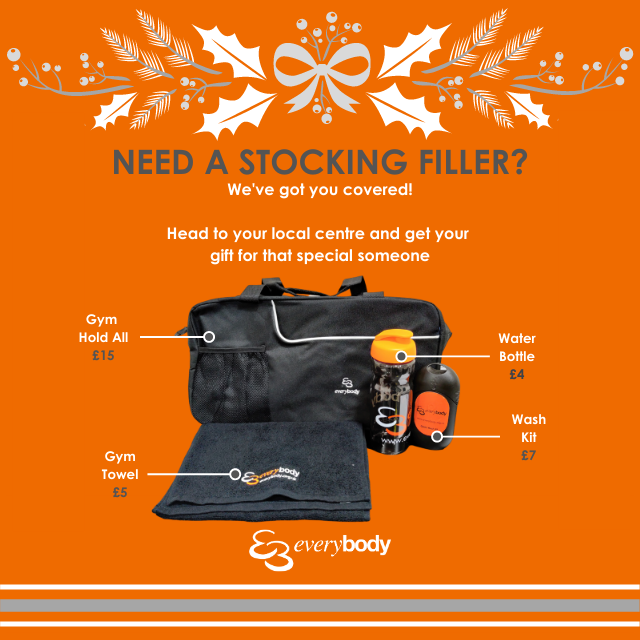 Invest in yours or your loved ones Health and Fitness
There is no better time to look after our health and fitness and if you are looking to invest in your loved one's health and fitness, we have two amazing membership offers on at the moment:
Commit to Fit with 12 months upfront membership and only pay for 8 or
Sign up monthly and pay nothing until Jan 2021!
Find out more about these offers here
Is it safe to return to a Leisure Centre you might be asking yourself?
We have done everything we can to make our facilities safe for you to return, from social distancing measures, regular cleaning, reduced capacities in the gym, swimming and classes, one way systems, we have moved where we can classes into larger areas such as our sports halls and more!
Our centres continue to operate as covid-secure facilities with a 4.8/5 star rating welcoming customers back to a range of health and fitness activities.
Our members also have a huge part to play in helping us keep our centres safe so we ask that you follow our guidance, codes of etiquette and follow government guidelines.
Together we can keep our leisure facilities safe for our customers and staff!
Check out our Everybody Back Together webpage to find out more and of course we are here to answer any questions or concerns you have around returning.
From us all at Everybody, Happy Christmas!