Inclusive Cycling sessions a success!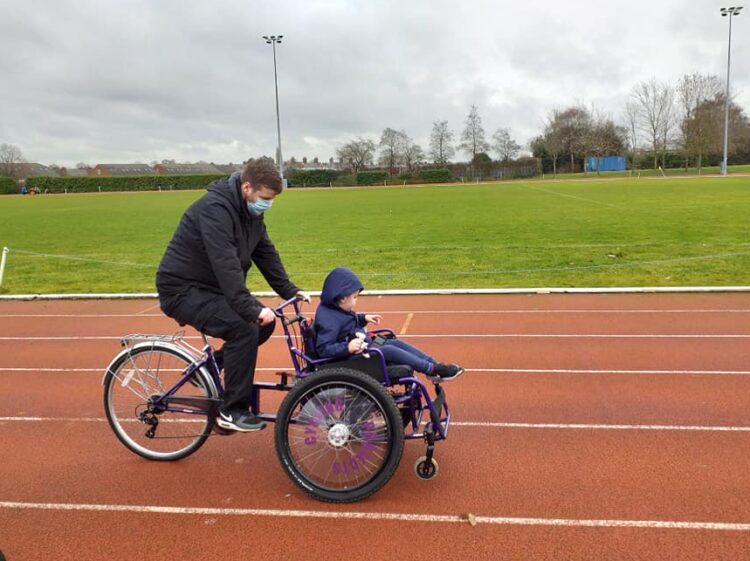 During lockdown Everybody Sport and Recreation have been delivering small Inclusive Cycling sessions outdoors for young people with a disability or impairment to keep active during lockdown.
Everybody Sport and Recreation asked members if these free sessions would be of interested and after receiving amazing positive feedback, they went ahead with the first session being held on Saturday 16th January at the Cumberland Arena in Crewe.
At these cycling sessions, Everybody Sport and Recreation, have adapted bikes for people to have a go at cycling, including different size trikes, a hand cycle and a wheelchair bike. The cycling sessions are aimed at young people, aged 5 to 18 with a disability or impairment and cover a range of abilities.
If you are a beginner, Everybody Sport and Recreation have staff to support you to learn to ride, as the trikes overcome the issue of balance to help improve confidence. If the rider is more experienced, you can ride around the track/circuit, plus Everybody can add some tasks to improve your skills.
The emphasis of these sessions is just to come along to use the bikes, enjoy the fresh air and have fun.
Andy Molyneux Disability & Inclusion Lead at Everybody Sport and Recreation shared "It is so important to remain active and it's been great to be out at the sessions again, interacting with the young people and seeing them having some fun again.
The sessions have small numbers with a maximum of 4 children per session and adapted to meet the latest government guidelines to ensure they are Covid safe and secure."
The sessions run weekly at the Cumberland Arena in Crewe on a Saturday and from Macclesfield Leisure Centre on a Sunday with two time slots 10am and 11.20am at each venue.
Phil Robinson from Disley attended the Macclesfield session and shares "The session was great and the boys are really keen to come back.
Doing this during Lockdown has done them a world of good, both physical exercise and mental wellbeing. I think that the boys just enjoyed the freedom to try different bikes and work on their skills."
Places for these sessions need to be booked in advance, for more information, please contact [email protected] or call 07506 317055