Who's ready for another health and fitness challenge and be in with a chance of winning some amazing prizes?
 Free to Feel Good with Everybody this August!
By taking part in our new August challenge launching on Monday 2nd August on Everybody @ Home, you will be in with a chance of winning a MyZone Belt plus an Everybody goody bag!
The perfect way to get you back on your health and fitness journey or to use alongside your current journey! After the success of our last 28 day challenge and member feedback we wanted to keep motivation high by providing you with new challenges to take part in!
Why should you join our Everybody Fitness Challenge?
Weekly challenges which you can complete at home or in our facilities
A chance to challenge your friends and family if you like a competition!
Challenges are great to keep motivation high and help you to reach your goals
Community encouragement from our members and instructors on Everybody MemberZone Facebook Group
Online support and motivation from our health and fitness team on Everybody MemberZone Facebook Group
A variety of workouts to work your whole body
You can find out what challenges we will be releasing on Everybody @ Home throughout August in the image below!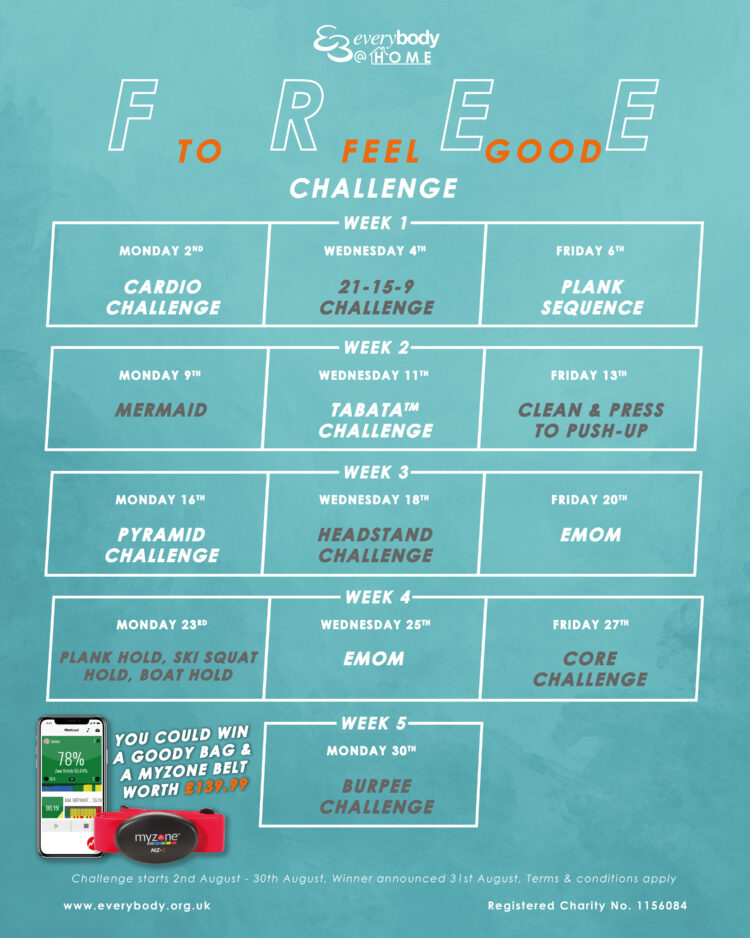 Challenge ends Monday 30th August, the winner will be announced on Tuesday 31st August.
Click here to find out all of the information you need to know about this challenge and how to get involved!
Please take reasonable precautions to prevent damage or injury, do not participate in workouts if advised by your doctor against.