Quality of life improves for Paul following a coronary artery bypass graft procedure
Everybody Healthy
Paul Riley attended Phase III Cardiac Rehabilitation run by the NHS, as a result of a coronary artery bypass graft procedure. On completing Phase III he transferred into Phase IV Cardiac Rehabilitation , delivered by Everybody Health and Leisure across Cheshire East. 
Paul attended Phase IV Cardiac Rehabilitation at Poynton Leisure Centre and believes since attending the 12-week programme his fitness and confidence have improved and he has increased his knowledge and understanding of what physical activity and exercise he can undertake safely and within his limitations.
Specialist Health Advisor Victoria Sutton at Everybody Health and Leisure shared:
"Paul has been amazing to work with and completing the 12 week programme. He has been very consistent taking part in the multi rehab sessions on a weekly basis. His confidence and fitness have improved dramatically since starting the programme, as he knows what he can do and how to exercise safely. He has been a pleasure to work with!"
He has benefited greatly from the individual instruction, given by Everybody Health and Leisure's qualified BAPCR Specialist Health Advisor Victoria Sutton, and has met new people. He is now walking, cycling, using the row machine and light weights.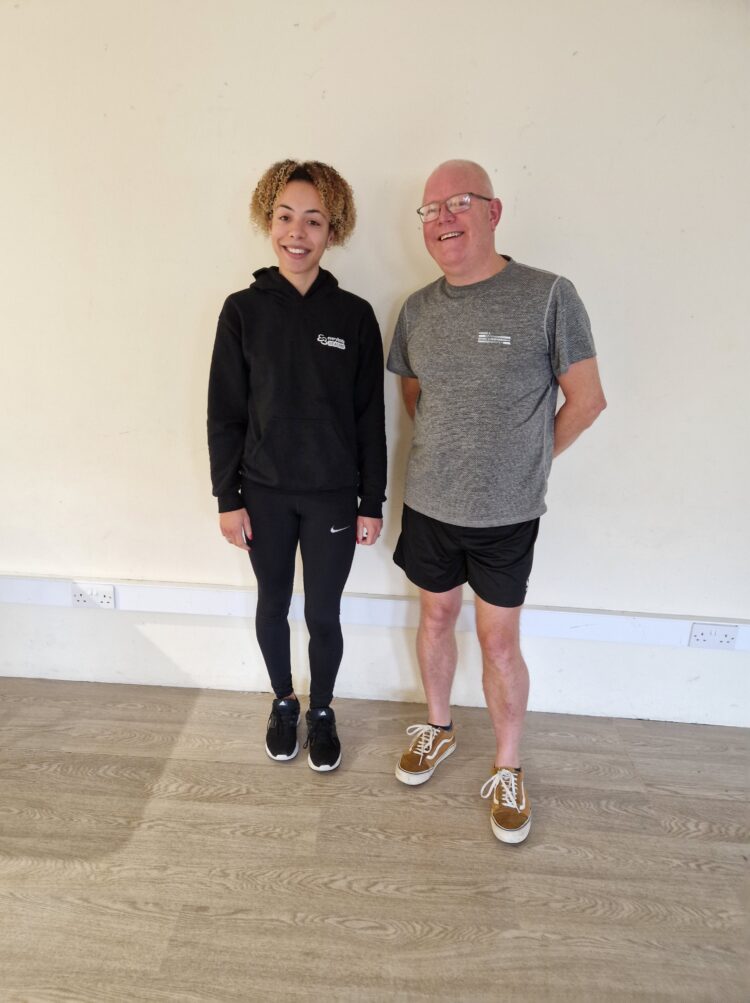 Specialist Health Advisor Victoria Sutton with Health client Paul Riley
His blood pressure has improved, has lost weight and reduced his waist circumference. Paul has enjoyed taking part in the programme and appreciated the 1-1 support and instruction.
Paul who has completed Phase IV Cardiac Rehabilitation with Everybody Health and Leisure shared: 
"The Cardiac Rehab programme was excellent. It gave me the confidence to know that doing the exercise/routines was ok. It was comforting to know that Victoria was keeping an eye on me and my progress and ensuring that I didn't overdo anything. 
I'm certain that my stamina and hence general health has improved since joining the programme. More importantly I know what my limits are and have the confidence to continue with the exercises. I would most definitely recommend this to anyone who has been through the procedure that I went through. My observations from others on the course indicate that it is suitable for anyone with any mobility issues.
I'm eternally grateful for the time, advise and care afforded to me by Victoria and her colleagues over the past several weeks." 
If you have any questions regarding our health programmes please contact the health team on: 01270 685589 or email – [email protected]
Find out more about Everybody's Health programmes here 



Cardiac Rehabilitation Phase IV
Cancer Exercise Rehabilitation Programme
COPD Exercise Rehabilitation Programme
Ends.
Notes to Editor
Everybody Health and Leisure are a registered charity which aims to provide 'leisure for life' by improving the health and wellbeing of local communities. The charity operates 16 leisure facilities including 9 swimming pools and 7 Taste for Life cafes across the Cheshire East region, and delivers a range of targeted health, sports and disability and inclusion programmes. For more information please visit: www.everybody.org.uk or follow on Twitter @ebleisure.
Media Contact

Name: Matt Shannon
Email: [email protected]
Phone: 07816 606758