Connect Your Community:

The Benefits of Volunteering
In this blog we are going to take a closer look at the benefits of volunteering, explore how they help you to connect your community and if you haven't ever considered volunteering, encourage you to take the first step and look into our volunteering roles, including our exciting new role: Community Connector Volunteer.
Other roles available:
Ability for All, helping to run our exciting activity days for children and families with disabilities Volunteer Coaching Assistants, supporting our seasonal holiday programmes. Everybody Learn to Swim Helper, assisting the next generation in learning to swim. Volunteer Walks leaders, getting out into the fresh air in heart of the community. Taste for Life Cafe volunteer, a great introduction to the hospitality and catering industry.
So, what is a Community Connector Volunteer?
We are looking for friendly volunteers that love a chat, can actively encourage, motivate and support participants attending our various sport and activity sessions. Our Community Connector roles are key in helping participants get the best from their chosen sport activities, being the link to helping people to socialise and encourage them to try new things, giving participants confidence in being more active.

Reasons to become a volunteer include: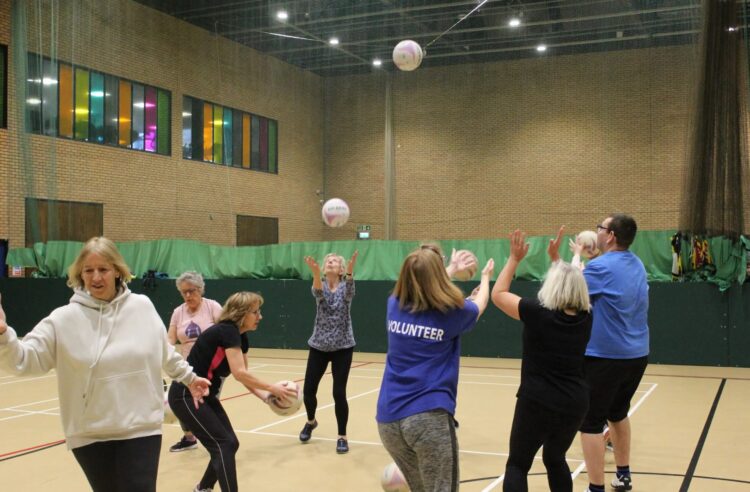 A chance to meet new people

Give something back

Support the community

Encourage others to volunteer

Have fun and make friends

A chance to meet new people
Volunteering is a great way to meet new people in your community, stay in contact with friends in a similar position in life as you and strengthen those already blossomed relationships. In most cases, volunteers experience people from all walks of life, so you will be sure to enhance your social skills whilst giving something back to your local community. As stated by, Indeed.com, "You may be faced with various problems to solve as a volunteer that require you to exercise critical thinking skills that aid your own personal development". After all, they say we grow the most when we step outside our comfort zone!
Give something back
When we reach a stage in our lives' when we want to give something back to the communities that have served us so well over the years, volunteering is the perfect piece to the puzzle. Having the opportunity and time to support others through volunteering will build your personal skills and enable you to experience positive change in your local community. Everybody's new Community Connector Volunteer will focus on social and inclusivity, offering a welcoming smile with fun and laughter always at the forefront of the role.
Support the community
Our Community Connector role is key in supporting the local community, engaging in local events, supporting social gatherings and looking to help others in their journey to take part in sport or physical activity. Encouraging people to become more active, socialise, improving their health & wellbeing are all vital role's when it comes to doing your bit for the local community. So, ask this question to yourself, are you doing your bit to supports others?
Encourage others to volunteer
One of the best benefits of volunteering we have experienced first-hand, is the ability to enjoy it so much, you naturally begin to encourage people to consider volunteering for themselves. "It means that being a volunteer I can through example encourage other people to consider volunteering". (Sue Whiteley Everybody volunteer, Connect your community by joining national volunteering programme.
Have fun and make friends
Many people choose to volunteer for different reasons however one of the most common is to fill their time with something constructive and to provide some sort of structure in their life. As stated by Ian Towers, current volunteer at Everybody, "Volunteering makes me feel good, it's not just helping people, it helps me to, I am retired. I have the time to do it and it is something positive I can do with my time". This strengthens the fact that you choose to volunteer to support others and actually end up indirectly helping yourself.
So, there you have it, 5 benefits of volunteering which will support your local community and help connect people together. Ultimately all these reasons contribute to helping people understand why volunteering is important and the real impact it has on your local community.
Everybody's volunteer programme is the perfect place for you to make a difference in your community. The focus is on social and inclusivity, offering a welcoming smile with lots of laughter, you will be making the difference!
Can you support others in their journey to take part in sport or physical activity? If you are interested in our Community Connector role, you can register your interest by completing an application form here.
Find out more about what volunteering opportunities Everybody offers here.

Become a Community Connector Volunteer