16th June 2023 – Via Kidical



Kidical Mass Crewe Family Cycle Ride for funding for safer streets



On Sunday 11th June, the 100th birthday of Cycling UK,  over 90  cyclists took part in a family bike ride to demand the funding for active travel needed to safely independently and actively travel around Cheshire. Crewe has some good short cycling routes but very few families feel that it is safe enough to cycle to school.
After speeches by the organisers and best wishes from Crewe Town mayor Dennis Straine-Francis the ride left from Crewe Lifestyle centre at exactly 11 am to the sound of the Charge bugle call by  Graeme Malam.  The ride included people of all ages and abilities, on all types of bikes, from people in their seventies to  a babies in cargo bikes. Cheshire Fire brigade kept the slower riders safe and  Cheshire Police marked many cycles and gave security advice.  Riders also received goody bags from Everybody Leisure and reflective armbands and restorative bananas from the Coop at the finish picnic  in Queens Park as part of Sustainability Live and the Big Green Week.
More than one rider  commented afterwards that everyone had a great time, felt safe and that 'there were no complaints'.
Amy Haydock wrote on facebook "Thanks for the great day! Great to meet some lovely people and see some awesome bikes too! My first bike ride out in about 14 months since having a 2nd baby! But we did it."
Government has cut  spending for active travel by two thirds,  making impossible promises that half  journeys will be walking or cycling by 2030. The little that remains  is less than the cost of two recent junctions on the M25.  So much for levelling up as in London the spend is £9 per head, outside the capital it is just £1 each per year.

Crewe used to be known as a cycling town; mostly flat, it takes only 15 minutes to cross on a cycle, but can take 40 minutes in a car in heavy traffic, at increasing cost to the driver and the economy. Traffic and  air pollution is choking the town; its bad for health and business.  Cheshire East  is still one of the worst 20% of local authorities in the UK for transport related carbon emissions.

Investing in routes for active travel that improve health and local connectivity  is quicker  and more cost effective than any other transport scheme with benefit-cost ratios of 4.7 to 32.8 for cycling schemes compared to 3.1 to 5.1 for road schemes.  A child-friendly town is a town that's good for all people, however they travel, whatever their ability or age: Its good for you, and good for Crewe"
The Leader of Cheshire East Council. Cllr. Sam Corcoran rode alongside the families and said:
"I have for many years sought to encourage people to walk and cycle more, particularly on short journeys to school, shops or parks. So it was great to see the Kidical Mass cycle ride with many young people on their bikes and balance bikes cycling to Queens Park in Crewe. The health benefits of cycling are huge and it doesn't just benefit you. Walking or cycling rather than driving helps other people's health as well as your own. Air pollution contributes to over 20,000 deaths a year in UK; short car journeys cause pollution and lead to high level of exposure to poor air quality for both drivers and passengers. Cycling rather than driving improves your health, it helps other people's health, it reduces carbon emissions and it's fun!"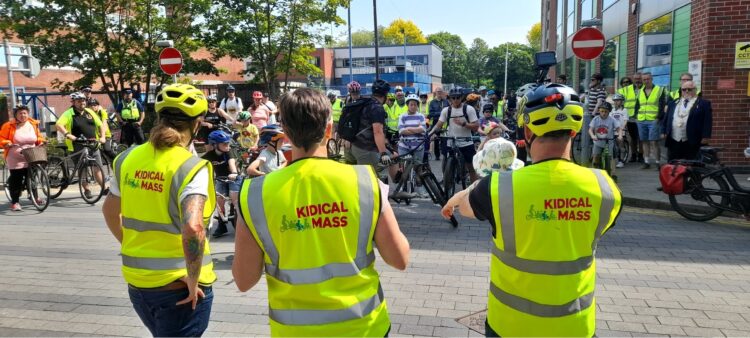 The Kidical Mass organisers are local parents and volunteers, including  Jess and Derek Coates,(qualified ride leaders) with their youngsters,  Sarah Greatorex (Cycling Instructor),  Dan Hammersley (Cycling UK) and Crewe Town  Cllr. Ben Wye. They want to  make space for the next generation, where children and young people are able to safely and independently travel by cycle wherever they live. Crewe used to be known as a cycling town, mostly flat,  it takes only 15 minutes to cross on a cycle, but can be 40 minutes in a car in heavy traffic, making it perfect to lead the way for change. A child-friendly town is a town that's good for all people, whatever their ability or age. 'It's good for you, and good for Crewe'.
Kidical Mass Crewe was disappointed to see Cheshire East council lose the last round of funding from Active Travel England which would have seen infrastructure designed for all users. They are working with the council on better designs as opportunities arise by listening to children, young adults, and families. They support the council to show  leadership and deliver the cycle infrastructure people need to meet the government target to make "England a Great Walking and Cycling Nation.
 Organiser Jessica Coates said:
"The families and young people on the ride all showed strong, independent skills and said they would cycle to school if it felt safer. Some that do ride feel they have to share the pavement with pedestrians in places. How disappointing that in this day and age we are limiting our future generations, in health, independence, growth and development – the very things we want to foster for the future! The numbers riding here were proportionally much higher than at other Kidical Mass events over the country recently; the voice of the people has clearly been made – we need safer infrastructure. The council has already contacted us  wanting to support future events so watch this space – why don't you get involved next time?"
 
ENDS
For updates see Kidical Facebook page here https://www.facebook.com/groups/kidicalmasscheshire/