Last chance to nominate your sporting or community heroes in Cheshire East!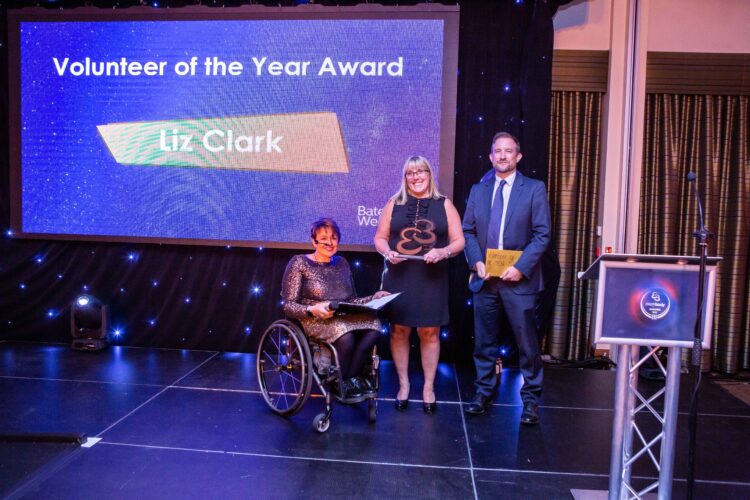 Photo caption: Baroness Tanni Grey-Thompson presenting Liz Clark, Volunteer of the year with sponsor Bates Wells at the 2022 Everybody Awards.
This years Everybody Awards take place on Friday 13th October at the stunning Crewe Hall, where Everybody Health and Leisure will be welcoming heroes from the local area, celebrating their achievements, hard work and dedication in the community.
The Everybody Awards recognise those in a sport, physical activity or health and wellbeing setting, with new award categories added this year, so if you know someone who deserves to be recognised, don't miss your chance to nominate, as they close on 9th July.
Categories include:
Are you or do you know a sports person who is an inspiring example, someone who pushes themselves to the limit to achieve in their given sport/s?
This category is open to all, who simply love their sport and are achieving amazing things, whether that's competing at a local, regional, national, or international level.
Are you or aware of an initiative that is providing opportunities to those in greatest need?  Have you created or developed a sports, physical activity or innovative project, that has impacted positively on a community or persons physical or mental wellbeing?
This could be, but not limited to, a school, sports club, local organisation or community group or an individual.
Do you know someone who is inspiring our communities to become physically active, reduce social isolation or improve overall health and wellbeing? This could be, but not limited to, a teacher, coach, parent, instructor, social prescriber or activator.
Anyone making a difference in their community who deserves to be recognised for their support and dedication.
Do you know someone who has given their time to a local community group, sports club, volunteer organisation to ensure that they can provide their services to as many people as possible? We all know an amazing person who goes above and beyond and deserves to be recognised for the time they give.
This could be, but not limited to, a volunteer, a grounds person, parent and coach who supports local clubs during or outside of sessions. Health champion, a person championing a health cause or a buddy supporting people to access key services.
A person or organisation/club that has ensured that people of all abilities and backgrounds have been given the opportunity to access ways to improve their wellbeing through sports or activity initiatives. This could be, but not limited to, a school, sports club, local organisation or community group.
As well as recognising and awarding this year's Everybody Customer Hero, Lifetime Achievement Award and Chairman's Award.
Everybody are welcoming back the fantastic Baroness Tanni Grey-Thompson, Paralympic Athlete and crossbench peer, to host this years awards. Tanni has had an incredible career, with 16 Paralympic medals to her name, 11 of which are gold and 12 world championship medals.
To find out more information about the Everybody Awards and to submit your nominations before 9th July, please visit: www.everybody.org.uk/about/everybody-awards-2023/
Ends.
Notes to Editor
Everybody Health and Leisure is a registered charity which aims to provide 'leisure for life' by improving the health and wellbeing of local communities. The charity operates 16 leisure facilities including 9 swimming pools and 7 Taste for Life cafes across the Cheshire East region, and delivers a range of targeted health, sports and disability and inclusion programmes. For more information please visit: www.everybody.org.uk or follow on Twitter @ebleisure.
Media Contact
Name: Lucy Bourne
Email: [email protected]
Telephone: 07773976464