"Invaluable" service is available to support Long Covid patients in Cheshire East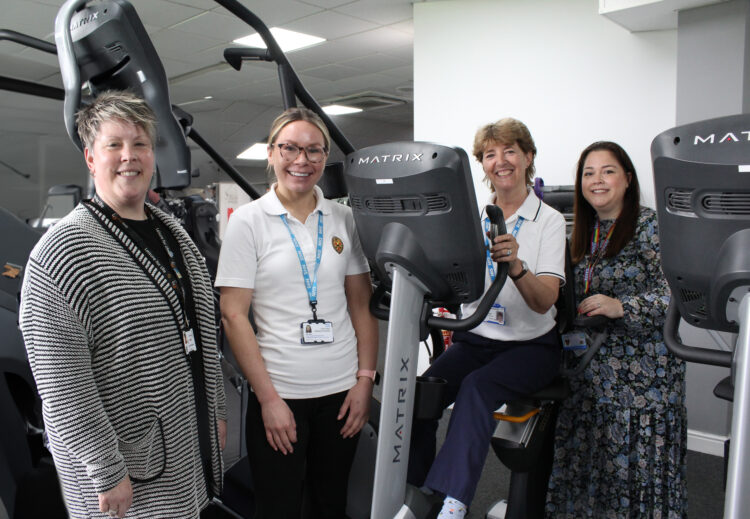 Photo caption left to right – Donna Williamson Senior Health Innovations Manager at Everybody Health and Leisure, Amy Ward Physiotherapy Team Lead for the post Covid service within Central Cheshire Integrated Care Partnership, Carol Jones Team Leader Physiotherapist in the post Covid recovery service at East Cheshire NHS Trust and Laura Millington Care Community Coach at East Cheshire NHS Trust
Over the past 12 months, Everybody Health and Leisure [Everybody] have been commissioned by the Post Covid Recovery Service to deliver a Long Covid exercise rehabilitation programme, working in partnership with health care colleagues to develop a service which addresses patient's needs, expectations and most importantly, their outcomes.
East Cheshire NHS Trust were tasked with setting up a new service locally for people living with the long-term effects of having Covid. Knowing that Everybody Health and Leisure had invested in their staff and piloted a programme for people living with Long Covid, they were keen to work in partnership and commission their services as part of the East Cheshire Post Covid Recovery Service.
Everybody Health and Leisure were re-commissioned back in March 2023 to continue delivering this service, Laura Millington, Care Community Coach at East Cheshire NHS Trust shares:
"We've had excellent feedback from our service users of the service provided by Everybody Health and Leisure, not only just the exercise component, but also the peer support and relationships they have built with the other participants, so we are keen to recommission again for a further year."
Carol Jones, Team Leader Physiotherapist in the post Covid recovery service at East Cheshire NHS Trust, shares
"Patients reported to us that it has been invaluable for them to meet other patients who are suffering the same as them with Long Covid symptoms. Most of our patients do not know anybody else who has Long Covid symptoms, their family, their friends, their employers, maybe don't really appreciate what they are actually going through and experiencing.
For them it very much is about the peer support, so what Everybody Health and Leisure is able to offer is so invaluable, it's not so much the exercise but it's so much more to meet other people who are suffering."
Over the past 12 months working in partnership, Everybody have received over 100 referrals (April 2022- end of March 2023) into their exercise rehabilitation programme, seeing fantastic patient outcomes.
97 percent of patients have increased their physical activity levels, going from inactive to active and over half of those patients are now doing 150 minutes of exercise a week in line with government guidelines.
Over 70 percent of patients have reduced their fatigue levels and improved their quality of life and over 60 percent have improved their mental wellbeing.
More importantly than the clinical outcomes, patients have been able to go back to work after prolonged period of sickness absence and are also starting to enjoy the hobbies that they used to do before they got Covid and were no longer able to do.
Amy Ward, Physiotherapy Team Lead for the post Covid service within Central Cheshire Integrated Care Partnership shares:
"It tends to be recommended that patients should be referred into the post Covid recovery service if they are having ongoing symptoms of Covid-19 after four weeks. In order for patients to be referred through to us they need to be referred through their GP to ensure all other diagnosis have been ruled out through the diagnostics. Our team consists of physios, OT's, social prescribers, GPs and an administrator and we complete initial assessments to review all of their symptoms."
Donna Williamson, Senior Health Innovations Manager at Everybody Health and Leisure shares:
"Moving forward, a part of that recommissioning besides the exercise rehabilitation programme will be to provide a peer support group after the sessions and we look forward to continue working with our health colleagues, but most of all supporting patients in their Long Covid recovery journey."
If you would like to find out more information please contact Everybody Healthy on: 01270 685589 or email  [email protected]
Check out the video interview with Donna, Laura, Carol and Amy here:
Ends.
Notes to Editor
Everybody Health and Leisure is a registered charity which aims to provide 'leisure for life' by improving the health and wellbeing of local communities. The charity operates 16 leisure facilities including 9 swimming pools and 7 Taste for Life cafes across the Cheshire East region, and delivers a range of targeted health, sports and disability and inclusion programmes. For more information please visit: www.everybody.org.uk or follow on Twitter @ebleisure.
Media Contact
Name: Lucy Bourne
Email: [email protected]
Telephone: 07773976464