Media release
Explore nature and boost your wellbeing whilst helping local wildlife!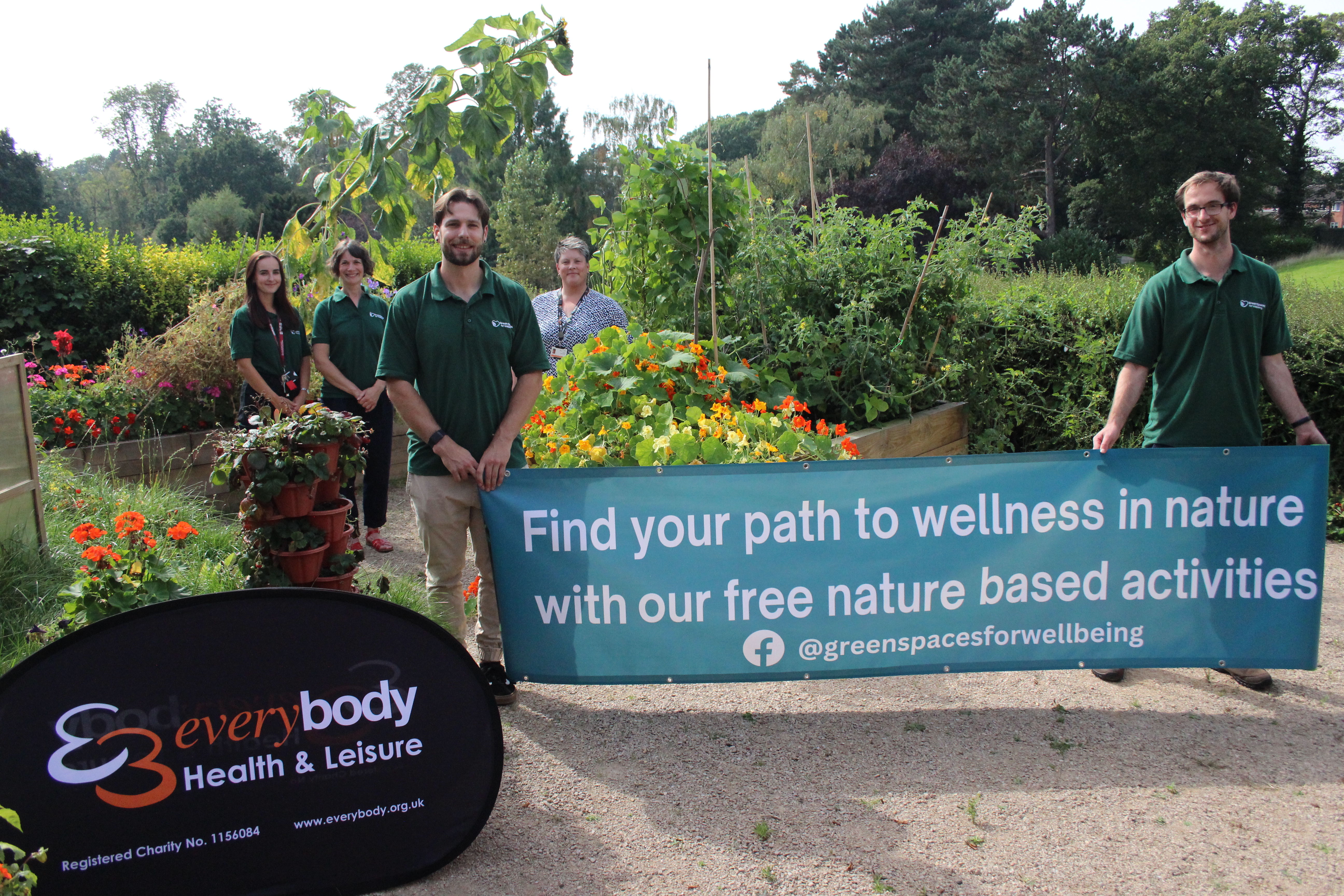 Everybody Health & Leisure has partnered with Cheshire East Council & Ansa Environmental Services to grow their Green Spaces for Wellbeing programme.
The partnership will enable the team to further promote the health and wellbeing benefits of outdoor spaces and activities and raise awareness of the number and variety of activities on offer, reaching as many people as possible in and around Crewe and Macclesfield.
Everybody has been leading on triaging the service and facilitating referrals for the service and is now working closely with the team to support the project even more, helping raise awareness of these fantastic activities to reach more people in the community, as well as providing physical activity and fitness classes in green spaces. This partnership approach means they can all come together to share knowledge and expertise when it comes to personal wellbeing activities.
The Green Spaces for Wellbeing programme provides free, nature-based activities to help improve a person's physical and mental wellbeing, available in Crewe and Macclesfield and they are delighted to share they have launched a new timetable.
As we move into the winter months, the Green Spaces for Wellbeing team have a range of new activities to help keep the mind and body active and warm during these colder times:
Move– Keep the mind and body active and moving as part of their Mindful Meander session, Ramblers Wellbeing Walks, Pilates for beginners and Buggy Walks.
Nurture– Create cosy homes for our local wildlife this winter on their Habitat Management sessions.
Grow– Learn about caring for gardens and parks in the winter months & growing our own winter produce through their Garden & Grow sessions or Allotment Drop-in (coming soon.)
Relax– Take notice of new winter surroundings and take time for you during a busy festive season on their Mindfulness for Women or Mindfulness for Men.
Connect– Meet others, connect with nature and create winter inspired art in the park on their Creative Connections sessions or Mindful Art in the Park 12 week programme.
Donna Williamson, Senior Health Innovations Manager at Everybody Health and Leisure shares:
"We are delighted to be working in partnership on the Green Spaces for Wellbeing programme. There is strong and growing evidence that connecting to nature can play an important role in improving mental health. It's such an amazing programme, providing a wide range of activities for residents, connecting people to nature, learning about gardening and wildlife, making new friends and improving their physical and mental wellbeing."
Matt Smith, Parks Commercial Manager at Ansa Environmental Services shares:
"Ansa are thrilled to be working alongside Everybody Health and Leisure developing the Green Spaces for Wellbeing Programme. With their added expertise we will be able to significantly expand the range of activities we can offer in our parks to improve the health and wellbeing of the community."
The Green Spaces for Wellbeing programme is for adults 18+, free of charge and activities are available to join that match a person's interest.
Mind shares, spending time in green space or bringing nature into your everyday life can benefit both your mental and physical wellbeing. For example, doing things like growing food or flowers, exercising outdoors or being around animals can have lots of positive effects.  It can improve your mood, reduce loneliness, improve your confidence and self-esteem and so much more.
Why not find your path to wellness in nature? Participants can either self-refer or be referred by a medical professional, such as their GP. If you would like to find out more, please visit www.everybody.org.uk/what-we-offer/get-fit-and-healthy/health/green-spaces-for-wellbeing/ or contact the Everybody Healthy Team on, 01270 685589 or email [email protected]
If you would like to refer your patients or clients on to this programme, please get in touch with the Everybody Healthy team who will happily help: 01270 685589 or email [email protected] 
Ends.
Notes to Editor
Everybody Health and Leisure is a registered charity which aims to provide 'leisure for life' by improving the health and wellbeing of local communities. The charity operates 16 leisure facilities including 9 swimming pools and 7 Taste for Life cafes across the Cheshire East region, and delivers a range of targeted health, sports and disability and inclusion programmes. For more information please visit: www.everybody.org.uk or follow on:
Instagram: EBLeisure and Green Spaces for Wellbeing
Facebook: Everybody Health & Leisure  and Green Spaces for Wellbeing
Media Contact
Name: Lucy Bourne
Email: [email protected]
Telephone: 07773976464