People in Cheshire East are remaining active during Covid-19 lockdown with the support of Everybody Sport and Recreation
Well the figures have just landed and we are overwhelmed with the amount of people who have been following our online health and fitness classes since our centre doors closed on the 20th March 2020 due to Coronavirus.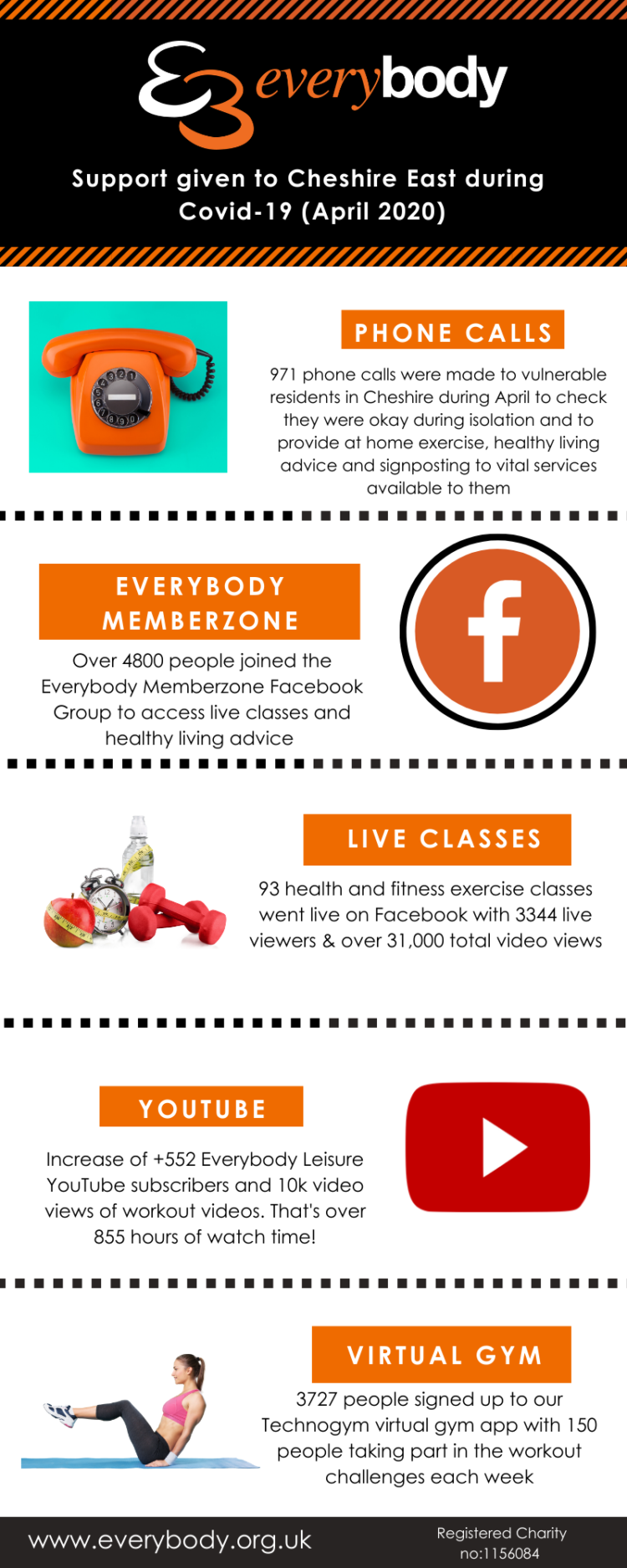 It is and will always remain our mission to help people in Cheshire to live well and for longer, we do this by supporting you to live a healthy and active lifestyle. We knew that when our doors closed in March due the pandemic that has gripped the whole of the world, that we needed to move fast and innovate to be able to offer you support whilst staying at home.
Since the 1st April 971 telephone calls have been made to vulnerable residents in Cheshire to check they were okay during isolation and to provide at home exercise, healthy living advice and signposting to vital services available. We have spoken to people who have previously attended our falls prevention classes and they have expressed how nice it has been to keep in touch.
Joan Sheard from Holmes Chapel, aged 87 shares "These calls make such a difference, just hearing from someone not in the family lifts the spirits and gives a conversation starter with friends from the class."
We understand that for many people coming to their local leisure centre to take part in a fitness class is more than just keeping active – it is a great way to socialise, make new friends and take some time out for yourself. This is why we launched the Everybody Memberzone Facebook live classes. Over 4800 people have joined the Everybody Memberzone Facebook Group to access live classes and healthy living advice. 93 health and fitness exercise classes went live in April on Facebook with 3344 live viewers & over 31,000 total video views! 
We have seen an increase of +552 Everybody Leisure YouTube subscribers and 10k video views of workout videos. That's over 855 hours of watch time!
Orla Flannery from Knutsford shares "I just wanted to say a massive thanks to you and your team. I have been loving your classes, I do a run at 6am then a Everybody class before my little girl wakes and then attempt to work and home school! I have really appreciated the workouts and the only bit of me time I get ALL day!"

Emily Jenkins shares "Thank you to all the instructors who have made videos of their gym classes. I work in A&E so I'm sure you can imagine my shift patterns are all over the place! So being able to access the videos at any time is great as I'm generally at work during the classes. Your time and effort is really appreciated, thank you."
Not only have our health and fitness classes been popular but we have also been able to create a virtual gym with 3727 people signed up to our Technogym Mywellness App with 150 people taking part in the workout challenges each week.
We are so proud of everyone in Cheshire and beyond who has taken the time to stay active and healthy during the lockdown period with us, it is a real testament to what an active county we are and how important remaining healthy is to us all.  
We will continue to deliver the free live online classes over the coming weeks and will be keeping everyone up to date following announcements from the government of when we can welcome you all back into our facilities again.
Don't forget it is also Walking Month in May and we have lot's of resources to help you track your steps and we would love to hear about your favourite walks.
For those of you who have been struggling recently to relax and unwind we are launching mind body and soul classes week commencing 18th May as part of mental health awareness week including live guided meditation over on our Facebook page!
Keep up the good work Cheshire East!
Love from Team Everybody x
#stayinworkout