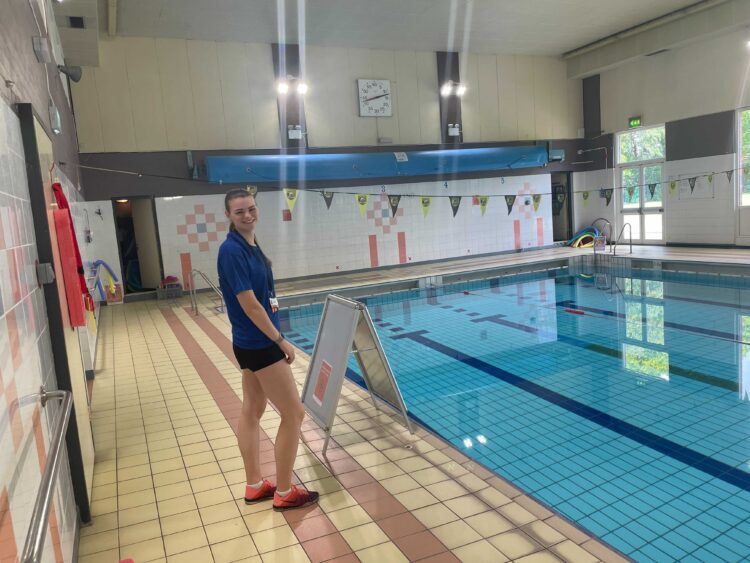 Louise Elleray, 19, from Haslington, has been a part of Everybody Sport and Recreation since 2019 and has become one of the friendliest faces in Alsager Leisure Centre. She is currently completing her apprenticeship in Leisure, where she works across a range of Everybody's offering including swim teaching, lifeguarding, and working in the gym. Everybody are currently accepting applications for their next Cohort of Leisure and HR Apprenticeships!
Louise has always had a passion for all thing's health and fitness, and still competes in athletic events in her free time. She studied PE and Biology at college but didn't want to go to university, so decided that an apprenticeship would be the perfect thing for her. She knew she wanted a job where she could be active and where her hobbies and skills could be used to her advantage.
She didn't know where to begin when starting to apply but came across the Everybody Academy and couldn't believe how suited the Leisure Apprentice role was to her and her hobbies! She decided to take the plunge and apply, commenting on how easy the application process was and how at ease she felt during the first stages of her apprenticeship.
Although apprehensive about starting, Louise couldn't believe the amount of support she received, not only from her teachers at the Academy but from all of the staff at the centre she works in. Louise said,
"We are all just like one big family and I've had the opportunity to learn so much from the people I work with, they welcomed me in so quickly and I love coming to work and seeing them!"
Louise struggled initially with certain elements of the apprenticeship, including lifeguarding and swim teaching, but has grown to love them and they are now her favourite part of the job! She's so glad she was given the opportunity to try something she never thought she'd be interested in and she now sees herself following a career in swim teaching.
As well as so many achievements in her role, including 3 separate qualifications, Louise won the 2020 Learner of the Year award at the Everybody Staff Awards. She was recognised by senior members of the organisation for her hard work and dedication.
One of her favourite things about her Apprenticeship is that every day is different, and she gets to have so much variation in her day, for example working in the gym in the morning, before a lifeguarding shift followed by a few swimming lessons! She said she never gets bored and always enjoys each element of her day.
Louise has learnt so much more in her role than the typical things you would expect from a Leisure Apprenticeship. Her confidence has improved massively, and she is happy to take on any challenge, she works hard on time management and her communication skills are incredible! Louise has become one of Alsager Leisure Centre's best and most approachable staff members and is always willing to support with any task.
She now can't wait to work hard to complete her apprenticeship and plans to take advantage of any opportunity that comes her way once she's finished. Louise aims to work her way up in Everybody Sport and Recreation and is so excited for her future.
When asked about what advice she'd give to someone who was thinking about joining Everybody as an apprentice she shared,
            "Go for it, I didn't intend to do certain sides of the role but I absolutely love it and I'm so glad I did it! I come in everyday so excited to learn something new. The Everybody Academy will support you through the training and they never make you do anything you're not ready for. They don't put you under pressure and allow you to go at your own pace whilst supporting you along the way!"
The Everybody Academy are currently accepting applications for their next cohort of apprentices, for Leisure and HR. Find out everything you need to know and how to apply here
Ends.
Notes to Editor
Everybody Sport & Recreation – Everybody is a registered charity and company limited by guarantee. As a Health and Wellbeing Charity, Everybody Sport and Recreation aims to provide 'leisure for life' by changing lives through healthy recreation. The charity operates 16 leisure facilities across the Cheshire East region as well as a range of Health, Leisure Development and Outreach programmes and the new Everybody Academy, providing local training and career opportunities. For more information please visit: www.everybody.org.uk or follow on Twitter @ebleisure.
Media Contact
Name: Lucy Lennon
Tel: 07816 606758
Email: [email protected]